"I am so angry" EHS resource officer Orion Watts
"Never once am I going to leave anyone in here. I don't care if you like me or not, I will make sure you are alive at the end of the day. I will not run away from here. I want you all to know that." 
Hang on for a minute...we're trying to find some more stories you might like.
It was 24 hours ago we learned the only armed sheriff's deputy at a Florida high school where 17 people were killed took cover outside rather than charging into the building when the massacre began. According to reporting by the New York Times, the Broward County sheriff said Thursday the deputy, Scot Peterson, resigned after being suspended without pay after Sheriff Scott Israel reviewed surveillance video.
"He never went in," Sheriff Israel said in a news conference. He said the video showed Deputy Peterson doing "nothing."
"There are no words," said Sheriff Israel, who described himself as "devastated, sick to my stomach."
Englewood High School Resource Officer (SRO) and Englewood police officer Orion Watts is devastated too, "This story, when I first saw it on the news last night, never went inside, and frankly hid when kids were getting shot,  I was so pissed I was physically shaking."
Officer Watts holds the same position at EHS that the Florida deputy held. He took the opportunity to speak with journalism students about his thoughts. He could barely contain his anger, "He hid outside like a coward, he was a coward, he never deserved to put on the badge. There are two more deputies being investigated for doing the same thing. He needed to be fired, he had no place and no right to be a school resource officer. I'm here to tell you guys, this will never happen here at this school."
One of the reasons he wanted to speak to students is to reassure them, "I will never run away from someone who is trying to hurt students. I will never run away."
Officer Watts says there are a lot of people who have no idea what it is like to be a police officer. He says they think they do because they've seen an episode of Cops. He wanted students to know that officers may not have any idea how they are going to act in an emergency. But he says the way the deputy in Florida reacted is unacceptable, "He took the cowardly way out. He should have to go to every single one of those families who lost children and explain why he hid while their children were killed. I will never be that person. If someone wants to come in here to hurt someone They are going to have a fight on their hands. They shouldn't think they could make it into a classroom. We will fight on my terms, not their terms."
Officer Watts knows the students at Englewood and says they are all important to him, "Never once am I going to leave anyone in here. I don't care if you like me or not, I will make sure you are alive at the end of the day. I will not run away from here. I want you all to know that. As long as I am breathing, I will take the fight to them."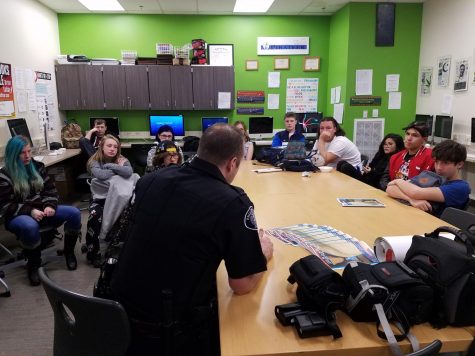 Officer Watts also wonders why the SRO officer in Florida didn't come through for students and staff who counted on him, "I took an oath when I first got this badge. It did not say I will abuse my power, I didn't take this position as an SRO to have power. I took an oath to uphold the laws. I took another oath to make sure you guys are all safe at all times. I will make sure that I will always protect you guys as long as my heart is beating."
Students wondered aloud whether Officer Watts, who knows each student personally, would be willing and able to take out a student, "I am ready to take down a student, teacher, staff member. If there is a threat, that person is a threat. I will do everything I can to keep people here safe."
Officer Watts also spent a few moments addressing the issue of arming teachers, "I think it is an extremely bad idea. Number one; you have a teacher who has a concealed carry. It only takes one step for someone to try to disarm that person if they want the gun. Number two;  Are they willing to pull that trigger? It is not their job. Number three;  Even police officers with all the training we get, all the time I spend at the gun range, even in those cases, police officers miss 50% of the time. So much is going on. It is so hard to hit the target. That is for someone who has that much training. I know every single bullet that leaves my gun is my responsibility. If I am wrong, I will be charged with a crime. I really don't want to be charging teachers with taking someone down and missing."