Veterans Monument at EHS may soon have Beacon of Honor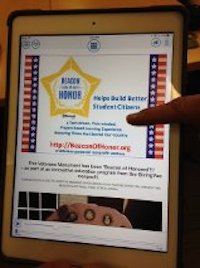 Hang on for a minute...we're trying to find some more stories you might like.
Englewood High School- Sean Sweeney spent 8th period explaining cool technology to a web design class. What is this man so passionate about? Veterans and their stories coming to students through a cool app.
The idea for this started with his own flag pole in his backyard. It was in honor of his father who served in the military. His father's Army buddy's gave this loving son a flagpole. Things happened that he didn't expect. He needed to know when a flag should be at half staff, and ended up explaining to his neighbors why the flag was there and why it sometimes had a flag that flew at half staff.
Sweeney decided to put an iBeacon on the flagpole and let the flag and an app tell the story.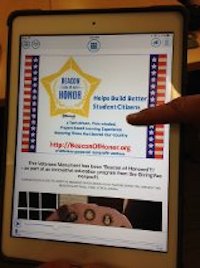 "Beacon of Honor," was launched. It is a small black box with bluetooth technology. It is a beacon you can pair it with an Apple or Android phone. Then you download a free app called "PlaceApp" and the device next to a flagpole or a monument is read by the app which uploads the information onto your device. PlaceApp is a Denver-based App company as well.
If you have the app and walk near a beacon, an alert will pop up on the bottom of your screen and you can click on it for the information. There you can see pictures, stories and videos.
If you would like to donate or purchase a Beacon of Honor, visit www.BeaconofHonor.org.