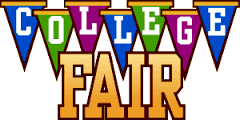 #TEC is hosting a College Fair on Monday, September 26th in the fieldhouse from 1:00-2:00pm. Parents are welcome, students will take part during 5th and 6th period. This is a wonderful opportunity to get information about the school you want to attend once you graduate from Englewood High School.
If you think you shouldn't waste your time on a College Fair, click on these links for stories about why making contact with your intended school is so important!!
Also, look at the list included in this story! Representatives from all these schools will be here. There are dozens of schools to choose from when thinking about college!
Why Am I Here? 10 Reasons Why Attending a College Fair Is a Good …
patch.com/…/bp–why-am-i-here-10-reasons-why-attending-…
Is A College Fair Worth Your Time? | My College Guide
mycollegeguide.org/blog/2012/04/college-fair-worth-time/
Shhh!!! The Secret Benefits of Attending a College Fair
www.educationquest.org › Blog › Posts
University of Montana Western
Colorado Christian University
Embry-Riddle Aeronautical University
NW Kansas Technical College
University of Northern Colorado
Arapahoe Community College
Adams State University
US Military Academy
New Mexico State University
Becker College
Columbia College
Arapahoe Community College
Colorado State University-Pueblo
Fort Hays State University
Northeastern Junior College
Colorado School of Mines
College for Creative Studies
Naropa University
Red Rocks Community College
University of Alaska Anchorage
MSU Denver
South Dakota School of Mines and Technology
Arapahoe Community College
CCD
Regis University
Albion College
University of Colorado Denver
University of Nevada Las Vegas
Valparaiso
Northern Arizona University
Otero Junior College
Northeastern Junior College
Arcadia University
Northeastern Junior College
Northeastern Junior College
University of Colorado Boulder
Doane University
University of Nebraska-Lincoln
Oklahoma Baptist University
Northeastern Junior College
Hastings College
Maryville University
University of Colorado Colorado Springs
Red Rocks Community College
Colorado State University
Colorado Northwestern Community College
West Texas A&M University
NM Tech
Colorado Mesa University
University of Arkansas
University of Denver
Johnson & Wales University
Santa Fe University of Art and Design
Western Nebraska Community College
Trinidad State
Chadron State College
Western State Colorado University
Colorado Mountain College
Black Hills State University
Naropa University
Wartburg College