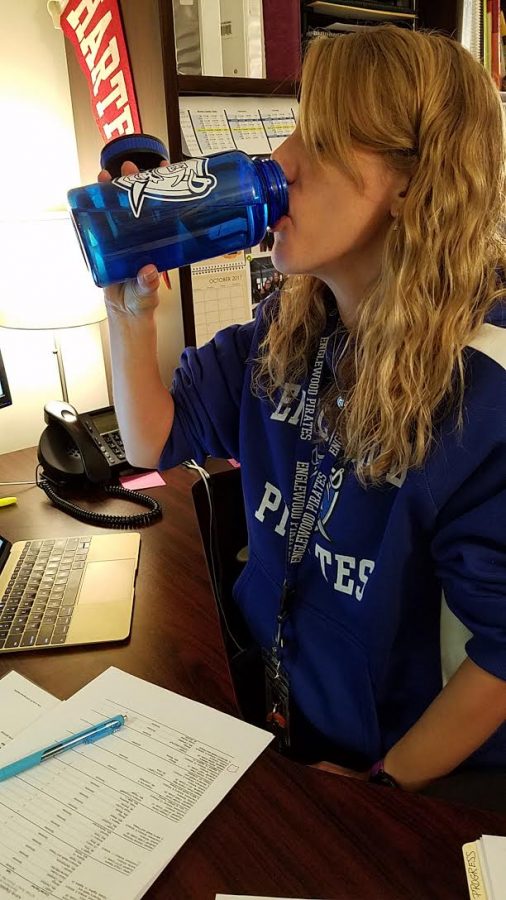 "The water is disgusting, I have to bring extra water bottles just to make it through the day," says Tatum Newman (12). According to the Englewood Water Department, the water is healthy but that doesn't mean students or staff are excited to drink it.
Many people on campus say the water has an "earthy" smell that makes it unappealing. "It has an earthy smell, kinda like dirt. I refuse to drink the water without a filter. This year it smells bad," said Cassie Weason, a science teacher. Rachael Macias, another science teacher believes she knows what the problem is, "It tastes weird because there is a build-up of algae."
The school's custodians seem to be the only ones with something positive to say about the water, "The water tastes fine and I've been drinking it my whole life," Mike Chelius said.
Even though the water has a not so appealing to some, experts say, there are no health issues to worry about. Jason Clark, the City of Englewood Water Production Superintendent, "The City of Englewood water is and has been in compliance with CDPHE regulations. We have had a taste and odor issue unlike any that we have had in recent years." He agrees with our science teachers and says the taste is from algae, "The taste is from algae in the raw water sources. It comes from compounds that the algae release in the raw water and can give off a grassy, earthy taste and odor." Just because students know the reason, doesn't make them any less concerned and Mr. Clark knows that "Yes, the community has always cared very much about their water and it's safety. This has become more prevalent in the last few years due to major water quality issues throughout the country."
In order to fix the issue, the city puts the water through several processes, "The Allen Plant uses coagulation, flocculation, filtration, and disinfection to remove and kill any pathogens that may be present in the water. The compounds that the algae give off are not always able to be completely removed by the processes. They are not a health issue, just an aesthetic issue, that we take very seriously."
If you have a question or concern about the water here at the TEC campus or at your Englewood home, Mr. Clark says they are customer service representatives available to take your calls, "When we receive a customer call, we then send out a Customer Service Rep to the location. We would do an investigation and grab a water sample to test for water quality guidelines. If an issue is found, we can react in a multitude of ways, depending on the situation."
As far as immediate changes? It is not that simple, "It can be costly to make changes to the water, but simple process adjustments to the operations can make a big difference at times," Mr. Clark said.