Funny, entertaining, and quirky. The Addams Family opens soon
Tickets on sale now for the March 6 and 7, 2020 performances.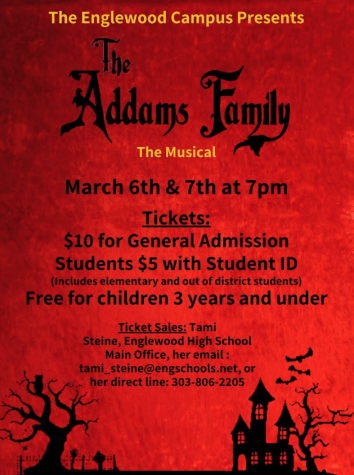 Englewood High School is performing the Addams family musical with many dance numbers and amazing songs that require actors to have strong dancing abilities and a strong singing voice.
"There's definitely a lot of work that's being put into the show between auditions and opening night. Every day we are working very hard to make the show the best we can," said sophomore Clayton Holdrege, who plays Fester in the musical.
When most people think of the Addams Family, they think of the old, black and white movies or the famous TV show. However, the musical is different. For starters, the musical has much more singing and dancing, and the plot is focused on Wednesday Addams and her love interest, Lucas Beineke. 
"This is a big dance show so we've been hitting a lot of the big dance numbers. We've choreographed the big opening, we've choreographed a tango, and we're finishing choreographing a tap piece so it's going really well," says Amy Pickering, the director of the school's musical. 
In the Addams Family musical, there are over 20 songs, and more than half are dance numbers. It takes a lot of dedication and practice to memorize choreography, blocking, and lines within 8 weeks.
"The Addams Family is such an iconic show, people know the characters and they love them, and they're written so well in this musical, plus some new characters are introduced as well," adds Pickering.
This is a musical that includes mostly dance numbers with a full cast, so the ensemble has a very big role in this show. "I worked as a casting director in Philadelphia so that helps me a little bit but it's different to do it with professional actors than it is with students that you work with on a daily basis. There's a very fine line balance with talent and just a really good kid and seniors who are leaving and trying to figure out how all of that works together to create the best cast," said Pickering.  
 "Being a lead, there's a lot more that you have to learn. Leads put more work into character development, the songs, and the acting, more than the ensemble. But every role is just as important as the other," said Holdrege. 
"The whole show is in the director because the director does all of the blocking. They definitely help with character development to make sure who we are playing is accurate," says Holdrege. This will be his eighth show. 
Tickets for the Addams Family are now on sale and can be purchased from Ms. Steine in the main office. All students are $5 with their student ID, including siblings and students from other school districts. General admission is $10. The shows start at 7 pm on Friday, March 6th and Saturday, March 7th.