A year in review: Business minds flourish at EHS
May 21, 2019
Business students learn real-world applications
Business 1 students used their knowledge to plan a real-world business
The students are new to business strategies and spent the first part of the semester learning entrepreneurship, financial budgeting for start-up costs, and marketing. These are 9th and 10th-grade students so the concepts are new and out of context until students put their knowledge to practice with real-world application. As an example, food trucks rely heavily on marketing via social media. Their businesses will not succeed without the low-cost options of Twitter, Facebook, and Instagram.
The final project was developing a business concept for a food truck. Students designed menu, designs, colors, logos and even modeled the truck itself. The students learned about the psychology of color and how that relates to eating habits and even the power of leaving the dollar sign off a menu and how it drives people to spend more.
Business 2 students run a coffee shop at school
Business 2 students took the year to not only run a real-world business inside the walls of EHS but the business they chose helped keep the students and staff energized through the end of the day. This year, students created the highly successful Pier 13 coffee shop that opened nearly every day during 5th period. The Pier 13 logo was created as an entire class. The color blue was chosen to be on trend turquoise, and the font was chosen for its readability. The class chose Pier 13, in reference to the Englewood Pirates being able to steer their ships to the Pier to fill up and the number 13 comes from the year EHS opened 1913.
Students learned to work the espresso machine pretty quickly and in fact, two of the four workers ended up with jobs at local coffee shops. In the end, students took their class knowledge to work, and then returned from work in the real-world with tips for the school run business. Students took orders online and delivered to classrooms during 5th period.
Leave a Comment
FBLA has a boom of a year
The FBLA District 10 Leadership Conference was held Friday, February 5, at the Arapahoe County Fairgrounds in which over 600 FBLA members and advisers participated in business-related and leadership development workshops, guest speakers, and competed in 50 different events.  The members who place in the top three/four of their events qualified to compete at the FBLA State Leadership Competition in Aurora in April.  25 EHS students participated. 11 students went on to participate in the state event and of those, there were 7 state top 10 finalists. In addition, EHS had one national qualifier, Bria Look.   Thanks to all who supported Englewood FBLA in this journey.
FBLA Stats:
25 members
7 officers
1 adviser
25 District participants
11 State participants
7 State Top 10 Finalists
1 National Qualifier
Countless memories
District finishers: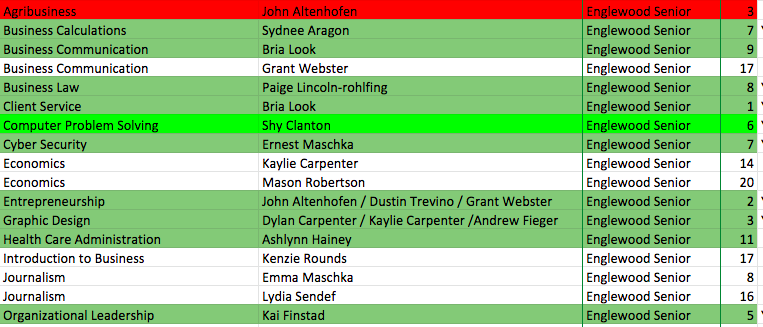 FBLA State Results
7 of 11 participants qualified in the Top 10
Bria Look – Top 10, 3rd Place and National Qualifier in Client Services
Andrew Fieger, Kaylie Carpenter, Dylan Carpenter – Top 10 and 4th Place in Graphic Design
John Altenhofen, Grant Webster, Dustin Trevino – Top 10 and 7th Place in Entrepreneurship
Leave a Comment