Policies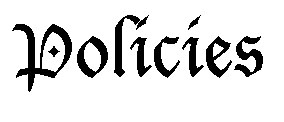 Englewood Public Schools Non-Discrimination Policy:
The Englewood Public School District does not discriminate on the basis of race, color, religion, national origin, sex, sexual orientation, handicap, or age in its educational programs, activities, or employment practices. There is a grievance procedure for discrimination concerns. Inquiries concerning any of the above or Title IX and the Rehabilitation Act Regulations (504) should be directed to:
Superintendent
4101 South Bannock Street
Englewood, Co 80110
(303) 761-7050
A full copy of the Journalism department mission and code of ethics can be picked up in Room 2119.