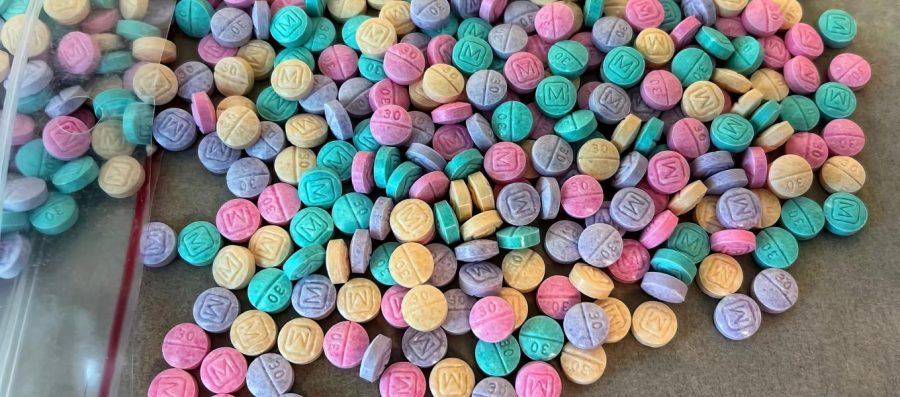 Rainbow Fentanyl: What you need to know and how you get information about it
November 9, 2022
Throughout the fall of 2022, a colorful drug has caught the attention of law enforcement and the concern of Colorado communities.  The Drug Enforcement Administration (DEA) is sounding the alarm about rainbow fentanyl becoming widely available across the United States and in Englewood, Colorado.  The DEA has seized brightly-colored fentanyl and fentanyl pills in 26 states.   The concern is that using a colorful candy-like appearance is a new method used by drug cartels to sell the highly addictive and potentially deadly fentanyl.
Rainbow Fentanyl: A Warning to Students
Fentanyl is a widely known, highly addictive synthetic opioid. According to the CDC, 107,622 Americans died of drug overdoses in 2021, with 66 percent of those deaths related to synthetic opioids like fentanyl. Now we have a new form of fentanyl abuse to keep our eyes out for. Rainbow fentanyl came to light in August of 2022 when the DEA found brightly colored fentanyl pills in 18 states. It earned its name quickly because of its bright-colored appearance and candy-like look. Mandy Lopez, The Englewood Schools District Nurse Consultant, says Fentanyl is a synthetic opioid, "that is 50 times stronger than heroin and 100 times stronger than morphine. This means that a small dose is deadly. Two mg, which is the equivalent of 10-15 grains of table salt, is lethal enough to kill an adult." Rainbow fentanyl can come in various colors, shapes, and sizes. Some of these include pills, powder, and blocks. 
Englewood Police Officer Matt Creaghe says local officials believe rainbow fentanyl arrived in Englewood a few weeks ago (early October) from the cartel and it is now flavored.  The Drug Enforcement Administration warns that drug dealers are marketing rainbow-colored fentanyl to kids. Although the DEA has not confirmed the dyed drug is marketed explicitly to children, it is crucial that people know how to keep themselves safe. Englewood High School counselor Amy Bricco said social media is one of the ways students are finding the drug, "High school students are finding access through Snapchat and parents need to be aware of this as well as students. We need to do both student and parent education. Parents need to make sure they are locking up their medicine." She says it is important to take steps to protect everyone, remembering to keep medication out of reach of children, and teenagers should also be aware that illicitly obtained drugs may contain fentanyl. Lopez warns, "Be aware of what you are taking. Don't take candy from people you don't know. If you are given something that doesn't look right, don't touch it, don't take it, and alert an adult."
According to the DEA, it is important to know the facts: opioids affect your brain, opioids affect your body, opioids are addictive, opioids can kill you, and opioid addiction is treatable. Experts insist everyone can stay safe by being informed. 
The signs of an opioid overdose include slow or no breathing; cannot be woken; choking, coughing, gurgling, or snoring noises; dizziness and disorientation; cold and clammy skin; blue coloration in lips, skin, and nails; and dilated pupils. If you see any of these signs it's important to call 9-1-1 immediately and use Naxolone if available. When given, Naxolone is able to block the effects of the drug, and reverse the lethal dosage. The Englewood School District keeps Naxolone in every building, include Englewood High School, and is housed with the Automated External Defibrillator (AEDs) in the schools. It is important to note: Naxolone is not harmful if the person does not have opioids in their system, if you administer Naloxone.  You and the person receiving it are protected under The Good Samaritan Law, and you can repeat giving Naxolone every 2-3 minutes until emergency responders arrive. Bricco warns, "It is out there and abundant. Any black market pills are not measured properly and one pill can have a fatal dose. The majority of overdoses in Colorado are due to fentanyl. Don't take pills that are not prescribed to you. What is ok for one person can be fatal for the next person." 
Help is always available
National Drug and Alcohol Treatment Hotline 1-800-662-4357
Colorado Drug Abuse Hotline 1-855-789-9197
National Rehab Hotline 1-866-210-1303
Naloxone is available at all major pharmacies. 
Leave a Comment
Students Unaware: Important school messages weren't shared with the right people
Disappointment hits some students at Englewood High School. On Sep. 21, 2022, a message was sent out to parents and staff about a deadly drug circulating in communities around  Colorado; rainbow fentanyl. As news of this started spreading around school grounds, it became apparent that students didn't know anything about it. 
Sophomore Elliot McConnell, expresses his feelings about this lack of information, "I think I was kind of just disappointed. I mean, to be perfectly honest, I think that a lot of these things aren't told to students directly and they should be. I was disappointed, but I wasn't shocked." 
McConnell also considered that Halloween was close to this event, "The kids are the one's trick or treating, and they might find rainbow fentanyl, right? So they should know."
McConnell says information between students spreads quickly whether it comes to them directly, "We found out anyways, so we may as well learn it directly from the district."
When asked about this, Principal Ryan West was apologetic and understanding of student concerns: "I've been trying to be very transparent in all my communications this year and sending things out to everybody. That particular email I received directly from the Arapahoe County Sheriff's Office and they said "Please distribute this information to your parents," and so that's what I did. I don't know why I didn't send that out to students. That wasn't intentional. Part of me didn't want to alarm people, but part of me thinks that students need to be aware that that's out there."
Principal West has no concerns about this drug being in EHS at the moment, but he does know the dangers, "It's more dangerous than any other drug that's out there right now. and I would just hate for our kids to come in contact with that or have to experience that." 
Leave a Comment