Englewood High School choir program has filled the halls with music for decades. Garlyn Saddler has been teaching choir for 28 years, 26 at EHS. So far this year, she has taken students on numerous in-school and out-of-school events that help shape the group.
The first major event of the year is the District Choir Tour and Performing Arts Tour, "I took Englewood High School choirs and this year we had an addition with the musical theater class that I'm teaching and we went to Clayton Elementary and Charles Hay Elementary, performed a set of music at each school for the students there. Then we came back and we performed for the middle school in the auditorium and then my middle school choirs also turned around and sang for the next few hours. That's very fun," said Saddler. 
Students are trying choir for the first time to learn and experience something new. Freshman Devin Hendricks is in the choir for the first time.  He joined the choir to learn to control his voice, "Being a choir student takes patience and determination. Sometimes it is stressful but you have to push through." Many students are joining the choir to get rid of stage fright, including Hendricks, "because being a Choir student you have to be willing to try new things no matter what it is."
 Hendrix loves choir because he is able to express himself, "The difference is you are singing about it. Choir is a sport that involves moving around and using your voice."
Those in the choir say it is special in many ways to many students and teachers. Throughout the years the choir has created friendships and partnerships, "Everything isn't about competing, you share what you both love and you make something bigger out of it."  
The choir students get out of their comfort zones. Some students may have been a bit shy before they took a choir class and now have an outlet. They also get direction from other choir directors throughout the year. The choirs have just wrapped up the multi-school Rocky Mountain Invitational Choral Festival held at the Lafayette Arts Hub, "Our choral students were able to apply their vocal skills in singing amidst 5 total schools and experience their own mini "All State"-like experience, under the direction of Dr. Raul Dominguez of Regis University," said Saddler.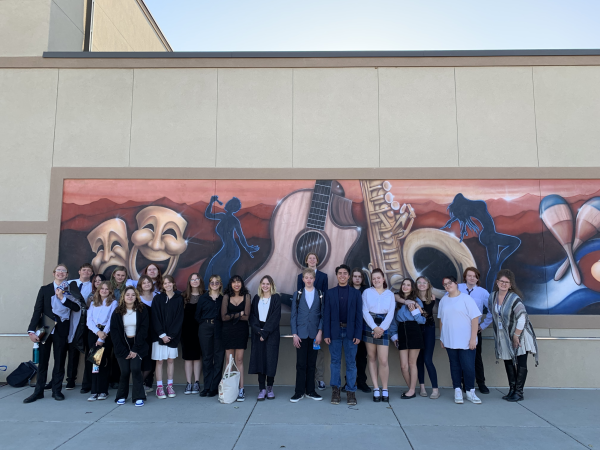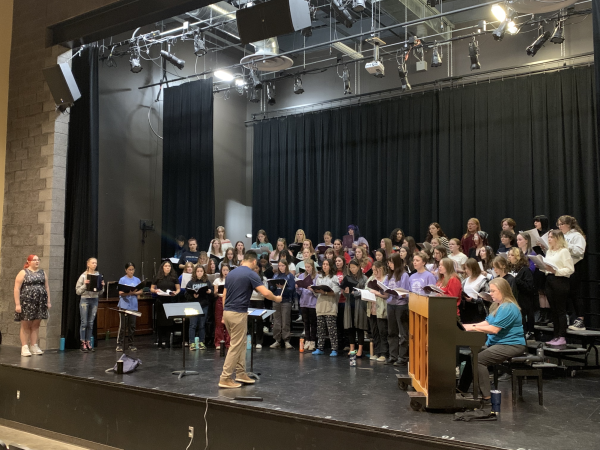 Saddler said they also ran into an EHS alum, "Aidan Mader, has been singing in one of the Regis University Choirs with Dr. Dominguez, and Dr. Dominguez shared with me today that – just recently – Aidan switched his major over to Music Education an honoring tribute to the contribution of our Arts here at EHS."
Select Pirate Voices and ETC also sang a feature piece on the concert to represent EHS Choirs specifically, followed by the multi-school performance segment at the end of the day, " I'm super proud of these students who did fine work, carried themselves respectfully throughout the day, took on new heights and rigorous literature in singing and musicianship, and experienced the power and benefit of collaboration in the Arts." 
Next up, sing for the City of Englewood tree lighting on December 2, and then on December 14, they will be performing the annual holiday concert.
If you think you want to join the choir next year, auditions start in January.