Joanna Polzin is excited to become our superintendent and is ready to work. She loves the students and that part means much to her,  "I love to see the students and see everything that you're all doing and achieving… So it's really about watching you all grow, thrive, and leave Englewood Schools prepared to make a difference in the world."
Polzin has been a part of the world of education for 23 years. This will be her ninth year in Englewood Schools. She was previously the deputy superintendent, the chief academic officer, and before that, the director of Assessment and Analytics.
Polzin recently sat down with EHS Media students in Broadcast Journalism and answered questions about her past, present, and future of Englewood Schools. 
Application for Superintendent's Student Advocacy Council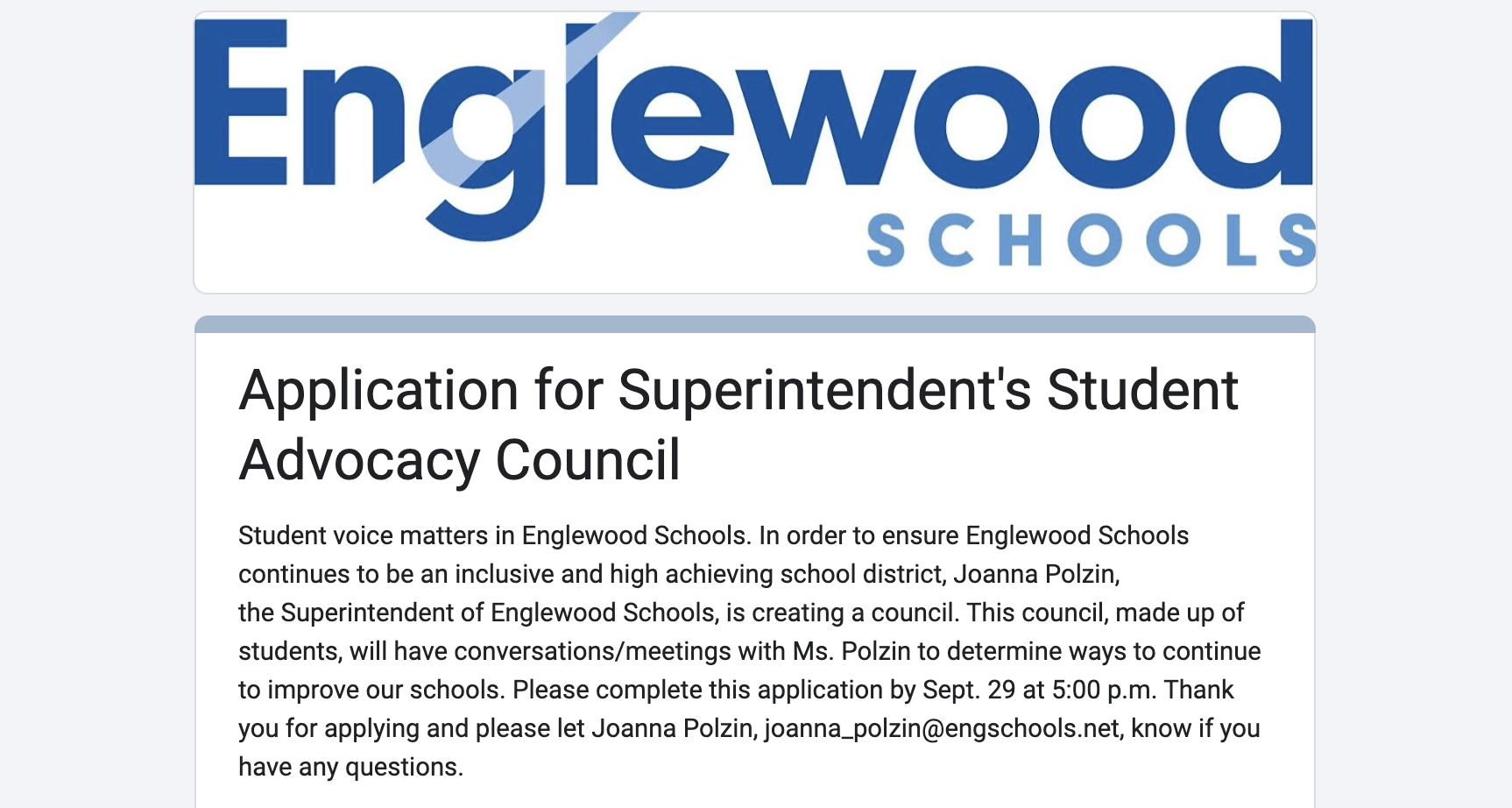 Council Form
If you want to work with the superintendent on the Student Advocacy Group and make positive changes to our district and its schools, here is the link to apply:
https://forms.gle/nYA6EjMVRw3Tzoqs7
One of her first ideas is a student advocacy group, "So I can learn more from you all about what you want to see in schools. You have a better pulse on what you need to be successful. And as you graduate, I want to hear what we can do differently to make sure that the learning environment is what you need to be successful."
With a lot happening in our district, including budget cuts, a mill vote, school safety, education curriculum, and much more, students are rooting for Polzin. Sophomore Noah Painter believes Polzin will continue much of what former Superintendent Wendy Rubin started while bringing her own leadership style, "Hopefully, she's gonna do a good job managing the schools, especially with our recent budget cuts we definitely need a much stronger management. So I'm hoping that she takes action. This job is important and holds much value to me as a student."
Polzin plans to do just that, "My top priority for Englewood Schools, first and foremost, it's always going to be the safety of staff and students." Polzin says once students feel safe, her next priority is academics, "Once we have that healthy learning environment, academics is first and foremost. Absolutely the academic growth and achievement of all students and every student."
The superintendent has a very important role, but what do students really know about the job? Senior Dominic Dever says "(They are) a person who oversees and directs some work." 
Without much student knowledge of the superintendent, it's important to know how they affect students. We learned from Polzin that the superintendent's main role is to manage all employees, students, and the budget of the district. They also set policies for the execution of management in each district and are responsible for long-term planning. The superintendent is hired by the Board of Education so their role is to report how the district is doing overall and help set a focus for the future. "(It's important ) that we have the right environment to ensure that you all can experience academic growth and achievement." 
Polzin has many hats including managing communications for the district, "I'm doing a little bit more of meeting with the media like the Englewood Herald, as well as this morning I sent out a press release to Chalkbeat." 
If you want to work with the superintendent on the Student Advocacy Group and make positive changes to our district and its schools, here is the link to apply: https://forms.gle/nYA6EjMVRw3Tzoqs7