His Bronco career highlights include 20 interceptions, four touchdowns, 86 passes defended, 4.5 sacks, and a 2015 Super Bowl Championship, but those pale compared to his generosity.  A former Denver Bronco has blessed our school district and helped more than 100 families. Chris Harris Jr., former Broncos cornerback, along with his wife Leah, donated $4,000 to the Englewood Schools Nutrition Services. In support, the NFL matched their donation with an additional $4,000 ($8,000 total) to cover the remaining school lunch debt from school year 22/23, which would have otherwise been attached to students' accounts as previous years' lunch balances.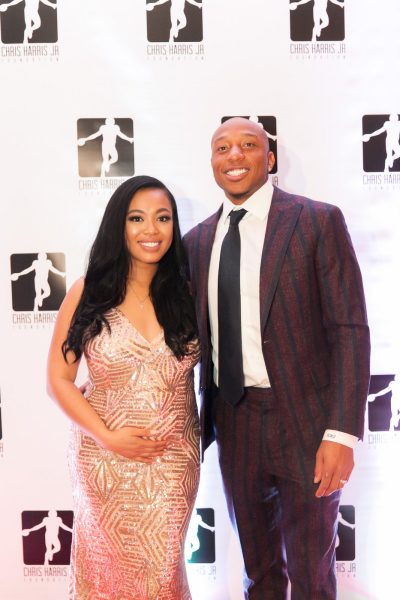 Harris was visibly honored and excited to donate, "This is something that has always been in me and my wife's heart to be able to impact children and be able to help as many people in touch as many people as possible. We've always had a big major impact on the community in Denver over the nine years of playing there."
Chris Harris Jr. played in Denver from 2011 to 2019. Harris and his wife were heavily involved in the community while living in Denver. He hosted events like Coats for a Cause, collecting coats to benefit the Denver Children's Home; Shop with a Jock where he took kids from the Boys and Girls Club shopping to buy themselves and their siblings Christmas presents; and backpack drives for elementary school students around Denver. Leah Harris is the driving force behind all of the community work and has made it a cornerstone of her family.
Superintendent Joanna Polzin said she was honored to have Chris and Leah Harris and their family join the November 8 Englewood School Board meeting via Zoom. "We would like to extend our sincerest gratitude for the incredible act of kindness displayed by Chris and Lea Harris through the Chris Harris Jr. Foundation for their generous donation."
Polzin said the Harris family donation is truly a gift for both families as well as the district, "Your donation offset costs that would have normally impacted our general fund, and we will be sending you a card a certificate, community pens, and pirate T-shirts because you are now part of the Englewood pirate family once a Pirate always a Pirate." 
The superintendent also thanked Nicole Withee for connecting Englewood schools with the Chris Harris Jr. Foundation. She stated Withee cares about ensuring our students have healthy food so they can focus in the classroom. Polzin said Withee understands the power of nutritious food as does the Harris family.
Withee, director of Englewood Schools Nutrition Services said, "It was an incredibly difficult year last year having to return to charging students for school meals based on the decision of Congress as they voted to end free meals for all on a national level in June of 2022."
With close to $10,000 in school lunch debt left on students' lunch accounts at the end of the 22/23 school year, Withee took a leap of faith. She had a previous relationship with the Harrises and the Chris Harris Jr. Foundation, "I reached out to Chris' publicist to see if the Harrises would be interested in and able to donate any funds to the negative lunch balances so families wouldn't have to carry those balances into future years." 
The Harrises were more than happy to contribute to this school meal debt and support the students and families of Englewood, as they hold Colorado close to their hearts. The two wanted to do more, even bringing up the idea of hosting a back-to-school event, but unfortunately, the time of year didn't allow for that to happen. 
"I just don't want to let them know that they're not forgotten. They're always loved. That's always been a home for us, and those children, we definitely miss them and the people out there. So we just want to get back to them and still show that we love the community out there and how much we're still a part of them," said Harris.