Students react: Donald Trump is our 45th President
What do students say about the outcome?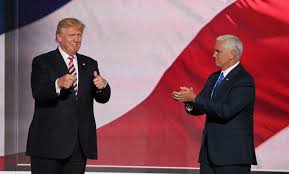 Englewood, Co.-"I am surprised and pretty angry that people supported Trump", says Edgar Reed-Sandoval (12). He is one of many students and teachers around the TEC campus who are bleary eyed. Some from staying up late to watch election results. It was the wee hours when Republican Donald Trump was declared the winner of the Presidential race. TV news shows reported that Trump won states expected to vote for Democrat Hillary Clinton. Reed-Sandoval worries that a Trump presidency may ruin the economy. Junior Anea Winfield hopes this election doesn't fuel more conflict, "There is too much conflict in our country and society that's been building for over a century".
Trump ran on a platform calling for immigration restrictions and changes to international trade. The Associated Press called Wisconsin for Mr. Trump and at 2:30 a.m. declared him the winner. Eric Dotson (10) says he believes Donald Trump was the better candidate, "I have more trust in Trump as the President over Clinton because she has a bad past."
In his speech to supporters in a New York ballroom after the win, Mr. Trump said, "Now it is time for all Americans to bind the wounds of division." He went on to praise Hillary Clinton for her public service and said the country owes her a debt of gratitude. Scott Wallace, the STEM teacher thinks a majority of the people who voted for Trump are alienated from the government, "I didn't expect the election to turn out this way. I thought Clinton had a good chance."
In her concession speech in New York, held around noon Wednesday, Mrs. Clinton thanked her supporters and told them to keep an open mind about the presidency. She even joked and offered to work for Mr. Trump.
Ayanna Brock (11) wonders what the future looks like, "I think that Trump doesn't fit the United States criteria for a good president. He is sexist and racist."
View Comments (1)