A clean start
Cafeteria workers learn and grow after receiving a bad grade on a health inspection.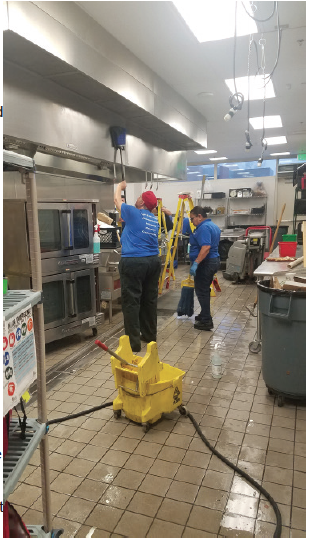 Have you ever studied really hard for a math test, yet failed? You may wonder what you did wrong, gone to the teacher and found you missed a few steps that would have gotten you a better grade. You learned from your mistakes, studied differently and got an "A" on the next test.
     The Englewood TEC cafeteria and its staff went through nearly the same thing recently when the Tri-County Health Department gave it a failing grade in several areas of cleanliness.
     Cheryl Hicks is the TEC kitchen manager. She is in charge of what happens in the food prep area. She says she is proud of the food and the environment in the cafeteria, "I am proud of the food we give out. I'd like to do more but with all the problems we've been having we've been trying to increase what we do but make sure it's more quality controlled." The cafeteria is a "farm to table" operation, "It means that I can bring fresh produce and fresh fruits to put on our salad bar and in our foods. This summer we grew a lot of fresh vegetables and fresh herbs we brought those all in and have been serving them and cooking with them. It makes things taste so much better when things come right from the garden instead of coming from the store."
     Students at Englewood High School say they heard about the negative health report through word
of mouth and social media. The information wasn't always accurate. Here is what we know here at The Pirateer. The health inspector came to the TEC campus for a surprise inspection last May. Six critical violations were cleared up at that time. Then in October, another surprise inspection found problems with the dish machine, unlabeled chemical spray bottles, multiple containers of chemicals stored directly above cleaning equipment, a dead mouse on a trap underneath a refrigerator, and rodent droppings by the back door. Junior Shailyse Lucero always eats at the cafeteria and had some concerns, "I heard there were mouse droppings under the fridge and they violated health codes, that makes me not want to eat here it's gross." However, she says she will continue to eat at the cafeteria because she knows the Englewood staff is doing everything in their power to solve this problem.
     When the latest report came out, cafeteria staff knew it was time for a complete overhaul of procedures. Hicks says there is no doubt now who is responsible for the cleanliness of the kitchen, "Everybody has their own site to clean, so everybody is in charge of a specific area of the kitchen. Last year, unfortunately, things didn't get cleaned as well as they should have. We were still trying to get things straightened up from last year and we are adding more stuff this year so everybody has now been stepped up to do twice the work along with cooking, cleaning, and everything else that we need to do."
     Many Englewood students have confidence in the cleanliness of the cafeteria, "I eat there a lot and since they started cleaning it makes me feel more at ease to eat there," said Senior Zach Bueno. Not only is Zach fine with the issues and how they were handled, so are other students including Nathan Bernal (12), "Now that they are cleaning the cafeteria it feels more comfortable to eat there."
     Not everyone is sold yet. SamSam Khalif (12) said, "I have to eat at the school and I feel like the cafeteria shouldn't have been dirty at all in the first place." Hicks agrees and said she wanted to clear a few things up for students because the health department report about the TEC campus made news on a local TV channel, "We want them to know that the report that they heard on Fox 31 was not accurate as far as to describing what the kitchen looked like. The kitchen was not dirty.  There were a few thing out of place, where they were not supposed to be. At any time of food production in a kitchen, in the middle of trying to do lunch, things get moved where they don't need to be."
     The staff is confident about the new practices, "We invite all students, teachers and parents to come in and visit the kitchen we will gladly do tours and let them come in and look at the kitchen."
     A follow-up inspection took place on December 12. The kitchen passed with no critical violations.
=============================================
Englewood Superintendent Wendy Rubin sent this letter home to families:
Dear Englewood Schools Community,
     I would like to make you aware of a news story that may air on Fox31 in the coming days. In May and October, the Tri-County Health Department conducted inspections at the Englewood Campus (TEC) and flagged several issues in the TEC kitchen. The issues included a mouse in a mouse trap and evidence of mouse droppings, along with procedure violations such as paper towels not being placed by sinks and cleaning supplies not being labeled properly. http://www.tchd.org/404/Health-Inspection-Look-Up
     We were very concerned when we received the reports, and I want to assure you that all issues have been addressed and resolved. The health and safety of our students and staff are top priorities at Englewood Schools.
     Since the inspections, we have worked closely with the health department and our teams to address all of the issues, and we are in full compliance today. All nutrition and food service staff are undergoing additional training and review of procedures. Additionally, we are increasing oversight and monitoring of this work. Please know that we hold our employees accountable to these important procedures.
     We are committed to ensuring all departments and programs at Englewood Schools operate to the highest of standards.
Sincerely,
Wendy Rubin, Ed.D