EHS teachers take part in College Friday in Colorado
Where did your teachers go to college?
On a typical Friday around the TEC campus, teachers can be seen wearing Pirate gear. Friday, April 21st was a bit different. Teachers and administrators proudly wore the apparel from their alma mater or favorite college. Algebra teacher Krista Walters went to the University of Northern Colorado. She says she chose UNC, "Because it had a great teaching program and it was in-state." English teacher Mark Fornnarino chose the University of Colorado, "I applied to a lot of other schools, but my parents convinced me to go close to home and CU was close and it had a great English department."
College Friday in Colorado is a day, proclaimed by Governor John Hickenlooper, to increase awareness about the importance of higher education. It is hoped that by showing pride in higher learning, students will feel encouraged to continue their education. Education past high school can take on many forms — whether at a college, university or through a certificate program. Counselor Lauren Mullins went to Fort Lewis, "I went to Fort Lewis so I could move to Colorado." Para Cody Swinson chose to stay put in her home state and went to University of Oklahoma, "Because it was the college I always wanted to go to and I grew up around it."
Educators call any post-secondary option a success and want students to understand that not all students are headed for a 4-year institution.  Internships, certificates, career training on the job, or any other option is also a path to success. Culinary teacher Sarah Davis went to Johnson and Wales, "It had the best culinary school in the nation."
State leaders estimate by 2020, 74 percent of jobs in Colorado will require some form of post-secondary education. Right now, only about 53 percent of Colorado adults have a degree or certificate, and that number is much lower for minority and rural populations. College Friday was launched in 2006 and has continuously gained support across the state. More than 300,000 Coloradans participated in 2016 alone.
EHS teachers take part in College Friday in Colorado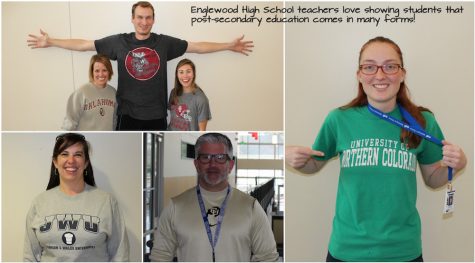 Sorry, there was an error loading this poll.
Special offers available on Friday, April 21:
•    Visit any participating Colorado Illegal Pete's location on College Friday and receive a free chocolate chip cookie for wearing your college gear.
•    Visit any participating Colorado Le Peep location on College Friday and receive a free gooey bun for wearing your college gear.
•    Post College Friday pictures tagging @957the party, @alice1059, @ks1075, along with #CollegeFriday and #edcolo, to enter to win a $1,000 gift card. Visit the KYGO website and KOSI website for your chance to win a Microsoft Surface Pro!
Leave a Comment
About the Contributor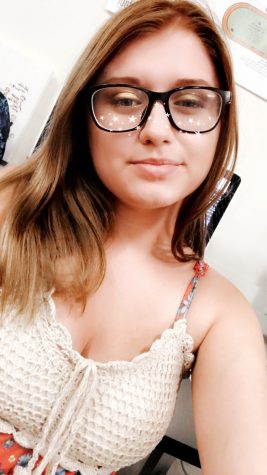 Jaydin Webb, Editor in Chief
I am part of the senior class of 2020. I hope to continue my career in journalism and leave a legacy for the next Editor. I have put my all into making...