A gift from the (lacrosse) Gods
Mammoth players replace stolen gear
Hang on for a minute...we're trying to find some more stories you might like.
EHS senior Travis Hastings has played lacrosse for years. It is his life. It is his future. Then, one day, last week, it was all gone.
"I was heartbroken. Look, my lacrosse gear is how I live, it's what I do, it's my happy place. To have my stuff stolen, my heart sunk. I've been in a funk the past week because I didn't have it," Hastings said. 
All of his gear was stolen from a car. Littleton Officer Andy Barnard took the call,  "Last week I responded to a call of a kid who had his lacrosse bag stolen out of his dad's car. Meeting his parents, I learned the kids' name is Travis Hastings. He was a lacrosse player for Englewood and was MVP and has won several awards he just got a scholarship to a college in Illinois." The officer decided to help, "To have equipment like that stolen before you are about to have this life-changing experience. I thought it was devastating. So I kicked myself into gear trying to see if we could help out." He got in touch with the Colorado Mammoth. The states professional lacrosse team. 
Hastings knew replacing it would cost a fortune. So did the Mammoth. Team members showed up to Englewood High school with a gift. Dan Coats is the Captain of the Colorado Mammoth team, "I think for Travis it's overwhelming for him. A week ago I'm sure he didn't think this would happen. But for me personally, I just feel grateful that I'm able to help out and give back to Travis. I've been through, growing up playing in sports and equipment is not cheap so being able to help out and give him equipment for the season it's worthwhile for us."
"I'm still speechless, I was in shock. Being pulled out of class like that I was expecting something bad even though I don't do anything that is bad. I had no idea this was happening," Hastings said. 
"Travis has great leadership skills and is a character guy, just from talking to him for a few minutes and I know he's going to put that equipment to good use and I'm excited about the high school team this spring," Coats said.  
Not only did the Mammoth bring a bag of brand new gear, they renewed his faith and his commitment to paying it forward, "I've committed to play Division 3 lacrosse at Augustana College in Illinois. With all this gear that I can't wear all at once, it's going to help me give back to the team. Have a bunch of new things new kids can use and if someone forgets things hey, I have all this new gear they can put on and play."   

About the Writer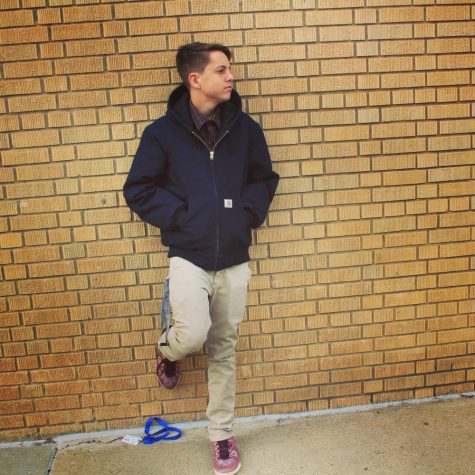 Cody Baldridge, Co-Editor in Chief
My name is Cody Baldridge and I am in 11th grade.  I am part of the Pirate football team  and would like to  go to Colorado State University when I...