Englewood football starts a new season with a new coach
Englewood High School running back Ikaika Gonzales racked up 135 yards on 13 carries. He scored 2 touchdowns in the opening game of the 2018 football season that ended with a score of 41 to zero.
(nat)
(19:10)Ikaika Gonzales/EHS RB
"We've got to perfect what we are doing in practice on game day."
Gonzales is the backbone of a team that has seen many changes in the last few years.
Those changes began this past summer, on the practice field.
(pirates)
The blue and white have a dynamic team of coaches that has changed the motivation and attitude of its players.
(18:36) Ikaika Gonzales- "I feel like our coaches are happy to have us, all the talent here at Englewood."
Heading up that new energy… Head Coach Mike Campbell. He played high school football at Arapahoe and played ball at the University of Idaho. He lettered for 4 years and then he was drafted.
(19:50)"I was a Canadian citizen, I'm now a dual citizen. I was drafted into CFL and played for the Toronto Argonauts for one full season and just a little bit of another"
Then it was back to his roots.
(19:38) "my history is in one place, Arapahoe High School for 22 years, the last 15 years as the head coach."
To say he had a successful run would be an understatement. Coach Campbell logged nearly 100 career wins during his tenure.
(20:34) "I came in conclusion that 15 years was a good number to be finished over at Arapahoe High School, I felt like I had accomplished really all I had to do there and was proud of the work I did there as a coaching staff and myself and the kids. I had 90 career wins there and 15 full seasons as a head coach. I had been feeling the itch to step down over there for a couple seasons now and finally made that decision at the end of 2017.
He thought about taking a year off and not coaching at all. He thought maybe he would coach his son who's a 6th grader, but a job opening changed his plans.
"I saw this job was open and I've known Ryan West for quite a while and think the world of him. I didn't know Nate Smith very well but I knew of him so when they reached out to me, I talked to him on the phone and they convinced me to come and interview and they kinda convinced me again that this was the right place for me."
Coach Campbell says he fits right in at Pirate stadium, a facility he knows well.
(21:34) I've loved the facility here forever."  
The close-knit community of Englewood is the perfect environment for his experience.
(22:46) " I've embraced it and I've just enjoyed working with them. The grit that you speak about, you see it in practice, you see it when we get a chance to compete, like our scrimmage with Littleton, they were ready to roll. I didn't have to make a lot of Newt Rotney-type speeches to get them going, they just got themselves going."
Players like Strong Tackle Gabe Torres say he and the team needed a  different coaching style and motivation.
(34:38) This year, the coaches, it's a lot better. They explain every step, it's a lot easier to understand."
Torres says the supporting staff has helped make the team stronger going into the season.
(35:03) I've been with them since summer, they encouraged us and told us we are going to win, so it puts it in our mind that we are going to win this season.
Englewood is steeped in history. Coach Campbell knows he is walking in the footsteps of some giants.
(23:52) "I think change is good. I think that Coach Graves is an awesome guy, I have known him for a long, long time, I've known Randy Penn for a long, long time. When I first started coaching football at Arapahoe, I remember coming over here on Tuesday nights for 7 on 7's and Randy and Jay are here. I think they did a phenomenal job but I think you sometimes get tired of being in the same place, that's what happened to me at Arapahoe. I'm proud of the work I did over there but I think the kids are excited to have a new coach, a new direction, a new idea. They are energized just like I'm really energized being over here.
One thing is clear, Coach Campbell has earned the respect of his players and they are willing to work hard for him.
(18:46) Ikaika-"If their attitude is right, the kids' attitude is going to be a lot better and they'll bring it to a new level."
TRT    4:33
OQ — "to a new level."
About the Writer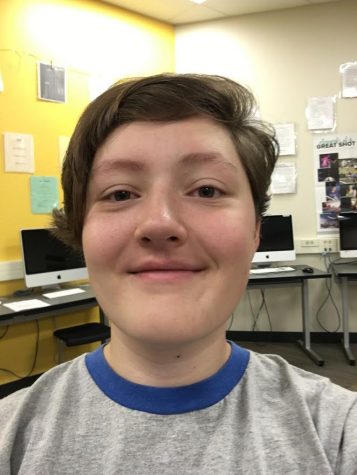 Katie Moraja, PirateTV Staff
I am a junior at Englewood High School. I am on the swim team and in choir, and I am the vice president of National Honors Society. I like the broadcasting...