The wild and wacky world of Crazy Town
EHS theater students present the fall play December 7 and 8.
Englewood High School theater students are going crazy. Many have joined the cast of the latest production of Crazy Town. Practices began two months ago and actors are perfecting their roles in time for the curtain to go up on the production.
Crazy Town was written by Jonathan Rand and has been performed in schools all over the world including Japan and British Columbia. In the play, the audience takes a tour of the most messed up town in America, from the police interrogation room where the nicest guy in town is issued a strange ultimatum, to the elementary school for a heated political debate on critical issues like tater tots, according to the play's website.
Eva Marques (9) plays a few roles– phone wife, kid with question, Myrtle Johnson, and Gretchen reporter face, "Just having all of the costume changes is hard. A lot of my scenes are right after each other. I really like to be able to play a wide of characters and getting to be in scenes with so many different people."
Students say they are having a blast practicing and can't wait to show an audience the play, "I just love theater and the sense of community with the small number of people in the cast," said Elowyn Fahnestock (9). She plays Doris Dopleflop the weather girl.
Audiences can expect a fun show, "So much happens in the show. It is really hilarious. The actors have put a lot of effort into making it good and a fun experience. It's coming together really well," Archer Husbands (9) said who plays Tom and the sign flipper.
Theater teacher Amy Pickering says she is excited to bring her experience to Englewood, "Since I could talk I've been performing." She says she chose Crazy Town for several reasons, "I had to choose a show that would be good for any range of interest and not knowing how many students would audition and do a show that had 30 performers and utilize our Black box with the new lights and sound system."
The play is Friday and Saturday night, December 7 and 8 at 7:00 pm. Tickets are available in the black box or from any cast member. They are $4-dollars in advance and $5-dollars at the door.
Leave a Comment
About the Contributors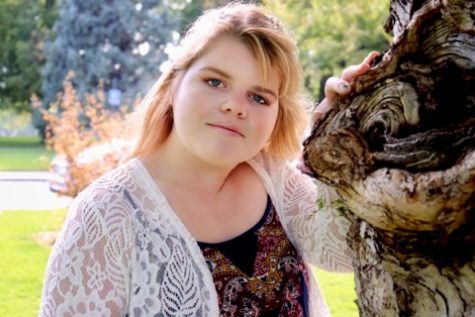 Mckenna Bone, Pirateer Staff
I like how we make new stories every day. It is fun to see the new ideas we come up with to reflect the students.