Long Lived EHS Staff
Hang on for a minute...we're trying to find some more stories you might like.
The halls of Englewood High school are steeped in history, much of it witnessed first hand by teachers and staff who have called EHS home for more than a decade.
The US Department of Education finds just 17 percent of new teachers left their jobs in the first five years — stands in stark contrast to the attrition statistic that has been repeated (and lamented) for years: That between 40 percent and 50 percent of teachers leave the profession within their first five years.
Here at Englewood High School, nearly 40-percent of the staff has remained steadfast in the halls for more than 10 years, ten have been here more than 15 years and three have stayed for more than 20 years.
Physical Education teacher Belinda Hayes has been here more than 20 years and says the time she has been at EHS so much has changed. Not just has it physically changed, she says the culture of students on average change every five years or so, "Our school knows what goes on and will do anything to fix it, unlike many schools by trying to hide problems and push it aside, we work as a team to get conflict away from the community," Hayes explained. She says she stays because of the students and loves her role here as teacher and mentor.
Susan Repair is another member of the staff that has been here more than 20 years. She says changes include learning that has gone from the big textbooks and everyone having computers in their backpacks. She believes student behavior has changed considerably, "Some days it feels like students are not always polite/respectful to teachers/office staff. Students do not seem to care if they are late or missing class. I remember one principal made students go to manners class and they had to do it before school at 7:00 am or during lunch. No foul language was allowed. He also had a tardy class," explains Repair.
"I grew up in this community, raised my children here and watched many others students become fine adults. It is home," says Repair. She struggled with the old building coming down, "It was hard for many people in the area to watch the old schools being demolished. They have history here and it is an important part of their lives. We now have beautiful buildings with new equipment," Repair says.
Repair has been here so long she remembers the stanger-than-true history that is EHS, "I remember in the old building there was a swinging gate everyone had to go through to get back to the office staff. That gate made so much noise it was finally removed. There is or was a chair that a former drama teacher always sat in when working on the plays. This chair was not to be used for the audience. It was right in the middle of the auditorium. He has since passed and they say he sometimes haunts the auditorium. The auditorium is named after him – Fisher."

About the Writer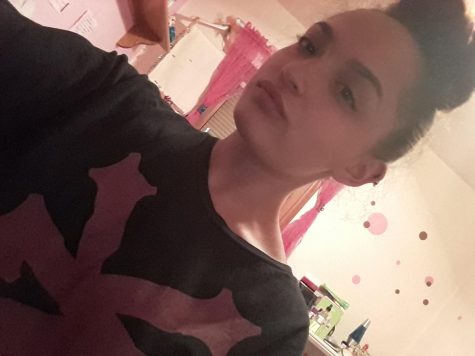 Destinee Enger, Pirateer Staff
I like that you get the express the feelings of the students at our school.