Theater Students Bring Fiddler to Life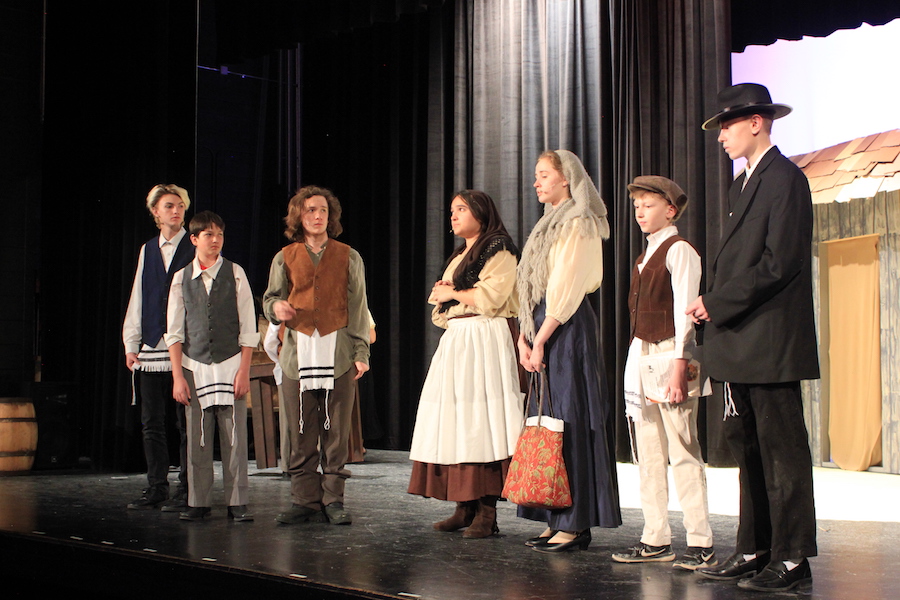 AJ Lee has taken on many roles in his time here at EHS. Tevye, the larger than life lead in Fiddler on the Roof, may be the most challenging in his senior year.
His wife, played by HeavenLee Escobar loves the character, "My part is Golda, she is one of the main characters. She is kind of the strong influence of the family. I think of her as the head of the house, even though Tevye is the head of the house, I actually think Golda is."
In the spring play, the story centers on Tevye, the father of five daughters. He works hard in the fields and to maintain his Jewish religious and cultural traditions. His daughters feel the outside world pushing into their small village. But so too is the town Tsar, who pushes them from their village. Set in the Pale of Settlement or Imperial Russia in 1905, the play is powerful and moving. The family seems to be breaking the rules and laws of marriage.
Theater teacher Amy Pickering said she has been in the play when she was younger and she is very excited about it, "Because I love it, and I've both been in it and been backstage in the past. The students have mentioned they would be interested in taking part in a more classical show. The music is amazing, it's heartwarming and kind of sad at the end."
Pickering says most of the scenes are built from scratch and the audience loved it. There were also special effects.
Ian Ramey is a junior and part of the tech class, "I'm really excited for the sets we built and how we are going to put them it this show and other shows in the future."
This is a huge production. There are 50 members of the cast and crew.
The play opened March 1st and 2nd to huge sold-out crowds. The storm Saturday didn't keep fans of the show from witnessing the performance.
Next up for the theater department is a student-led production which will begin rehearsals in the middle of March.