Home Opener Win
The final score, 28-7 Englewood
Englewood pirate football wins its first home game of the season. There was a large crowd at Pirate Stadium on hand in the matchup against Denver North Friday.
It was a rough start as Denver North took the lead in the first half 7-2. North had a touchdown in the first quarter. It was answered with a safety by Englewood.
Julian Galvan (11) is the starter as running back, but he was out with a concussion. Junior Zack Cave took over for the sidelined Galvan. Then, Cave got tackled and rolled his ankle,
"The injury to Zack Cave (safety and running-back) was a tough loss for us. He starts at both of those positions. Cave was injured in the first quarter of play and a freshman had to step in," said Nate Gravagno (11).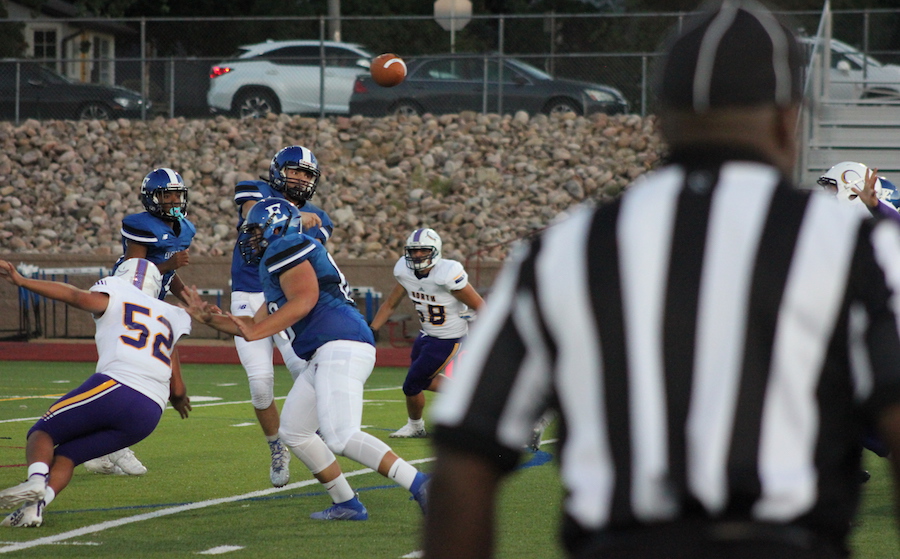 In the second quarter, Englewoods defense held North. After halftime, the high energy crowd gave the players a confidence boost. As the warm day gave way to a cool night. Gravagno plays wide-receiver and safety, "We played really well on defense and that gave us momentum going into the second half."
Gravagno was the star of the game with two touchdowns on offense, "One was a long passing play and the other, we were on the goal line and Mason threw a short route."
That means the ball changed hands from the QB to the wide-receiver right after the snap.
The receivers became open more often and they were able to connect, "Our offensive game opened up and we started to get open looks on passing plays," said Gravagno, "I think we are more disciplined and we know the formation, and the plays better."
Gravagno says his biggest challenge this year is dealing with so many new players, "I'm getting used to having so many freshmen playing. I'm stepping into more of a leadership role now that I'm a junior."
The final score, 28-7 Englewood. EHS takes on Denver West Saturday, September 21 in an away game.