It's Homecoming! Events start this week
Find all of the events and dates here.
Homecoming week is a time for students to come together, show their class spirit and bond as a school. 
Homecoming week is just around the corner. It kicks off with a Homecoming Assembly this Friday, Sept. 20. The events continue a more than one hundred year tradition at EHS of celebrating the community and its long-standing place in it. 
"I think I'm most excited for probably the dressing up because it's just really fun to be able to. I like to see people express yourself in different kinds of ways at school, or just the pep rally because it's really cool to be able to come together as a school and be able to be like one people," said Ethan Korum (11).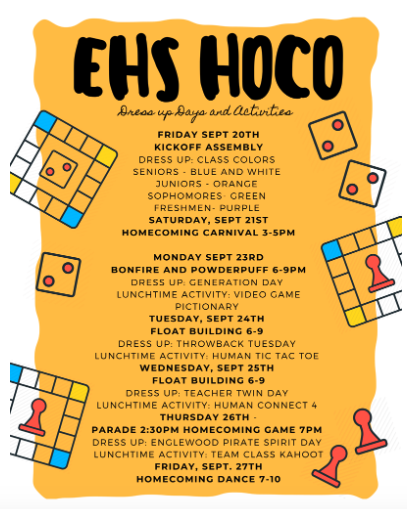 The first annual Community Carnival is Saturday afternoon, Sept. 21, from 3:00-5:00 in Pirate Stadium. All community members, alumni, elementary and middle school students, and their parents are welcome to attend. 
Carnival Flyer updated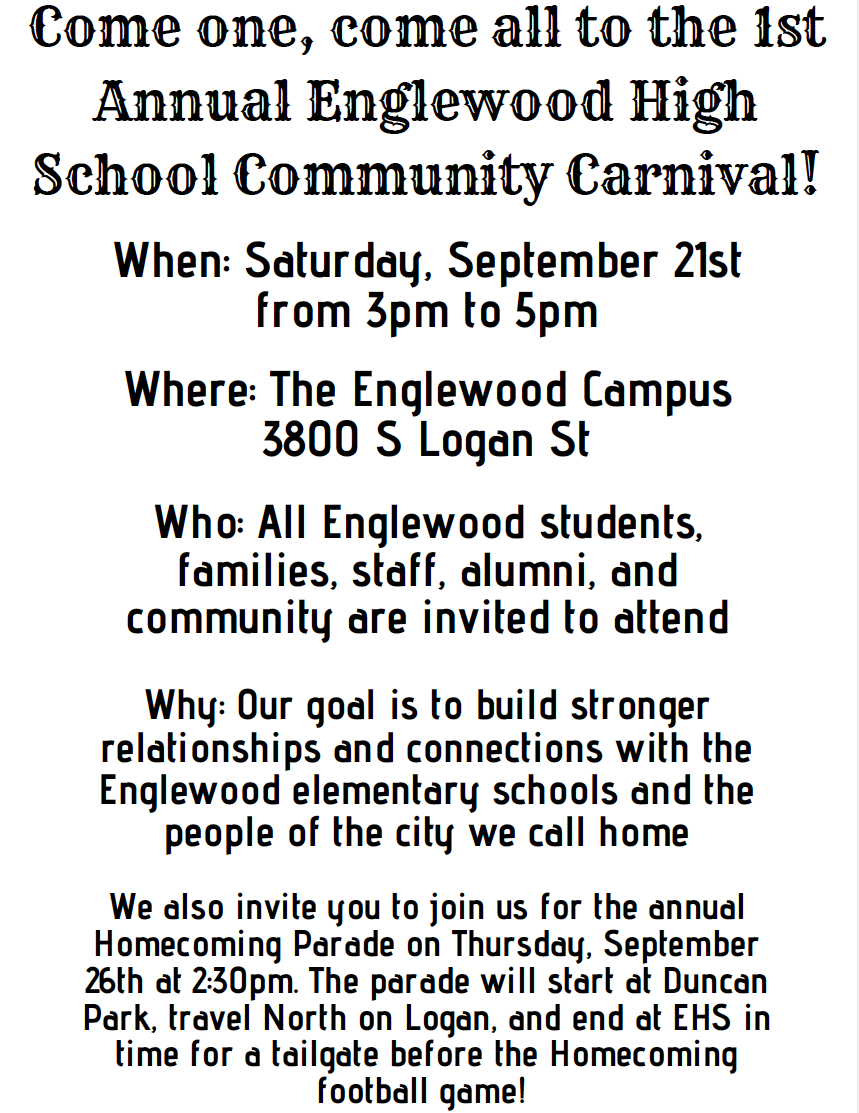 The schedule has changed a bit this year as the Powderpuff game and bonfire have been moved to Monday, September 23. During the week of the 23rd through the 26th, students will dress up each day to reflect the theme of "Games". 
"I'm most excited about the tailgate party before the game. And the bonfire."
"Those are super exciting times that the kids can get together and really encourage the football players. It's fun," Para Cody Swinson said. 
Homecoming week is a fun reminder for staff members who think back to their own high school times. Bryan (BD) Daldegan is an EHS Football Coach and Security guard. He graduated from Arapahoe High School in 2014. He has fond memories of his homecoming events, "I was always on the football team, either coaching or playing." He feels part of the school spirit at Englewood, "I don't feel different about it, because I am coaching."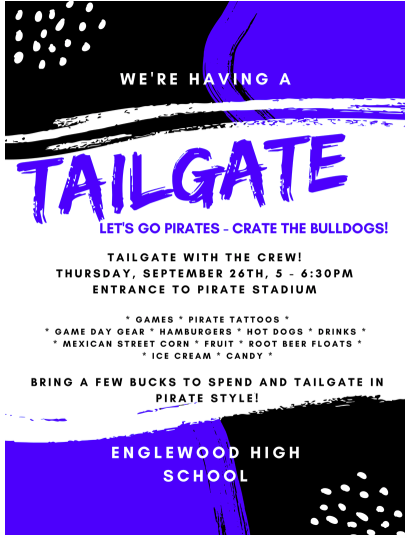 The homecoming football game is on Thursday, Sept. 26 this year. There is a parade and a tailgating party just ahead of the game, "Seeing our football team. I think that's the first opportunity I'll get. I always like the dress-up days. Seeing the kids outside their element a little bit," English teacher Scott Silva said. 
The week culminates with the homecoming dance. Students look forward to the events, "The bonfire, the dance party, and the football game. And I guess the dance because it's my first time," said Damien Land (12).
FULL LIST OF EVENTS: 
A complete list of Homecoming events, dress-up themes, lunchtime games, and community gatherings can be found by clicking on the links: