Physics — a drop in the bucket
Classes learn inertia and velocity while dropping eggs.
Teachers do everything they can to get their students to understand the materials they are learning and applying them to real life. For science teachers, this happens a lot in the form of science experiments. Each science requires different experiments such as dissections, tests, and labs. Rosemary Wolfe, who teaches Physics, gave her students the chance to take duct tape and create a protective "net" to keep an egg from breaking when dropped from a specific height, using what they've learned in her class.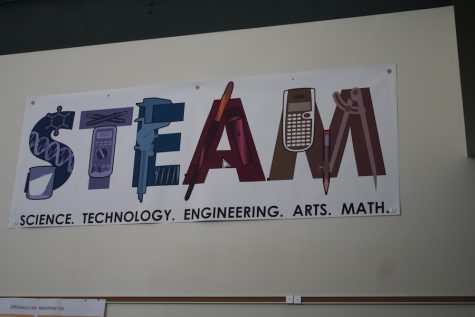 Students were nervous to see if their creations could keep an egg from breaking. Most of the class stuck to what seemed like a basic design, a box, and added extra support based on the group. But Israel Pendroza (9) and his group decided to take an interesting risk on their design, "Our idea was making it a cone shape so that the egg would slide to the bottom and in the end, it would fit like a glove." 
Pendroza knew it was risky but didn't think he would have to change the design, "We were nervous because when we dropped the test egg, it wouldn't go in so we had to cut the top open." While the test egg may not have worked, the actual test worked out in their favor, "I didn't think it would go in so we were surprised when it did."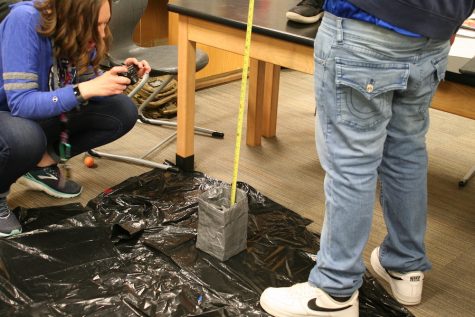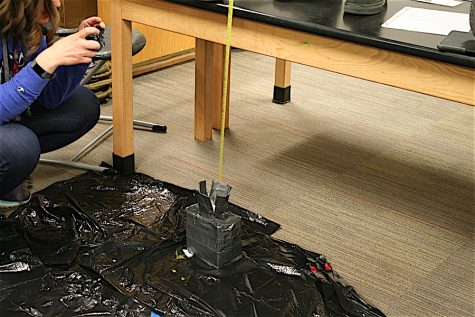 In the egg drop experiment, the egg is dropped from a high point into a man-made device aimed at ensuring the egg doesn't break on impact. 
The students form hypotheses about which of the egg collectors will effectively protect the egg and then test those hypotheses. The experiment is not just for fun — although students do enjoy it. It is intended to teach students about the relationships between force and momentum.
Students learn Newton's Laws of Motion or inertia, and velocity through Newton's Second Law, where he discusses the direct relationship between the external forces acting upon an object and the object's change in momentum.  
Another group also ran into some major bumps while testing. For Cisco Sanchez (11) and his group, they learned the simple box design doesn't always work. They got lucky more than once, "At first, our egg cracked because of the way we dropped it, so she gave us a second chance but she didn't catch it on film. So then she gave us a third try and, you know, third times a charm so when we dropped it, it didn't break," Sanchez said. 
After the first drop he didn't know what to think, "At first, I was worried but in the end, we just needed someone else to drop it."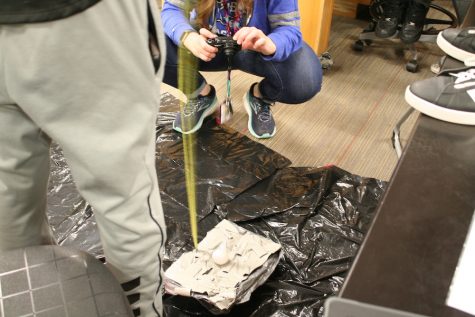 Even though the experiment was there to teach the students, it allowed them to have fun with the things they are learning. Sanchez enjoyed the building aspect of it, "I think it was a fun experience because we got to see if our crafts would work or not." 
These experiments allow students to get real-life experience with the content they are learning.