Who is Aniah Minelik? Senior and scholarship recipient
Meet our Daniels Fund winner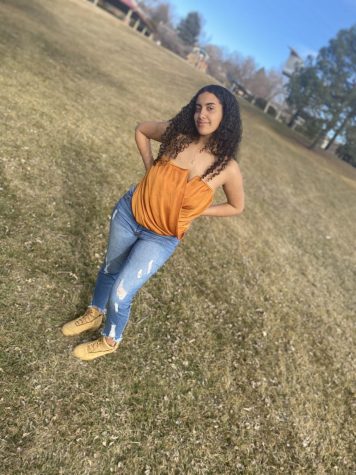 Get to know this year's Daniels Fund winner, Aniah Minelik.
According to the scholarship program website, Minelik is one of the 212 students from Colorado, New Mexico, Utah, and Wyoming who were selected as 2020 Daniels Scholars.
The Daniels Scholarship Program received 2,265 applications and interviewed 456 finalists.
Q: How did you feel knowing you won the Daniels Scholarship?
"I feel blessed to have won the Daniels Fund Scholarship. I have worked very hard all throughout high school to get straight As and follow my academic plan. I am very relieved because I was going to have to pay for college with no support and now I have more support than I could've asked for."
Q: How does your family feel?
"My mom cried when she found out I was a winner because we didn't have it easy and she didn't have any financial support to give me. It was extremely relieving to my family as well because college is one of the biggest purchases a person makes in their lifetime. They are glad I have all this support to be successful."
Q: Why was it important to have a major role in the Black Student Alliance?
"I founded the Black Student Alliance because there was no similar previous club in the high school's history. This was a place for everybody to vent about the obstacles and struggles they are facing in life because of their skin color. We also learned history in the club and ran a clothing and shoe drive which was donated to Asmara, Eritrea, and a homeless shelter downtown. It's important to give back."
Q: You said you want to start your own business. What kind of business are you interested in?
"I am currently researching different e-commerce businesses but I do not want to give anything away until it's final."
Q: Why do you like accounting?
"I like accounting because I like having control of my finances and math is my favorite subject. My end goal is starting my own business in e-commerce and an accounting firm and I want to be the accountant who handles all the financial records and decisions for both of them."
Q: Name a few choices you are looking at for college.
"I am currently considering Georgia State University, Houston University and in Colorado, the University of Denver. I am really eager to go out of state but might decide to stay in state because of what is going on in the world right now."
Q: What would you say to other students hoping to win the Daniels Fund?
"If you are looking into the Daniels Fund, I would say it is definitely possible if you put your mind to it. You just have to be your true self and be confident in your abilities and you can achieve anything. All these scholarships are definitely worth applying and will help you in the long run so I would start early. I applied to almost 50 scholarships before receiving this one so never give up."