#Classof2020 "This is so completely unexpected and none of this feels right."
Seniors share their thoughts and raw emotions about the abrupt end to their year.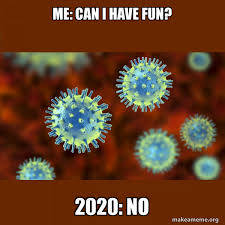 "2020 is the strictest parent I've ever had." 
Memes like these are all over the internet. You will also see a lot of pictures of seniors in a cap and hospital gown and protective mask, holding a roll of toilet paper, hand sanitizer, disinfectant wipes, and junk food. 
They make light of the holes left in the hearts of seniors, "This is so completely unexpected and none of this feels right. There is a lot of confusion, tears, frustration, and hopelessness. But everyone has always told us that the Class of 2020 is one of the strongest classes they've seen in years and this situation is definitely demonstrating that," said senior Emma Maschka. She has tried to keep a positive outlook since the pandemic changed her life and that of her classmates. 
Maschka is one of four seniors who shared their thoughts and raw emotions in an effort to give a true sense of the abrupt halt to their year. You will also hear from Jayda Brown, Iliana Chavarria-Rivas, and Riley Jones. 
Senior prom, spring sports, senior trips, clubs, and the rest of what senior year had to offer was robbed from EHS seniors in March when the pandemic forced schools around the country to close down. Most just wanted to spend time with their classmates and friends for a few more months before venturing into the next phase of their lives. These seniors were the first kids born after 9/11, and the Coronavirus put their graduation on hold. 
BIG LIFE CHANGES
This pandemic has caused lots of emotions and changes throughout the entire population, hitting students just as hard. Many are transitioning to a completely new way of life while others are losing out on things they never thought they would. 
Senior Jayda Brown has been going through a lot of emotions through the pandemic, "My life has changed a lot because I used to help take my siblings to volleyball practice and I went to all of their tournaments, so without that, I almost feel empty because it's such a huge part of our lives."  
Some students now have to look for new ways to keep themselves entertained. The lack of social interaction with other students and school activities has created a lot of free time in their lives. "It feels like life has come to a halt. I used to be super busy with school and activities, and now I find myself trying to cope with the boredom and find something other than schoolwork to occupy my time," said Maschka. 
Senior Iliana Chavarria-Rivas is terrified about what this means for her family, "My life has changed by now consistently being scared about catching a virus that could lead to my grandma possibly passing away. I now feel like my dog when I get to take him out for a walk."
The pandemic and quarantine have also forced unwanted changes into the life of senior Riley Jones, "This quarantine has changed my life in so many ways. The obvious is I did not get to enjoy my last 29 days of high school, do not get to have my last senior prom, my last pep rally… the senior farewell assembly and most importantly the class of 2020 graduation I (we) work so hard for. I miss all the high school experiences from day to day class… hanging out with my friends and teachers, this would have been my first year being the baseball manager, just having one last sport with my brother! I do not get that."
FRIENDSHIPS CHANGED
School allows students to get a wide range of social interaction from their peers, teachers and coaches. With school being out, many have lost their chance to connect with others outside of their household. 
Face-time, Zoom and social media keep seniors in touch with friends, but for some, it feels very final to not see them in person again, "I really do miss my friends, this was my last year to spend time with them before I leave for Navy Bootcamp in June," said Chavarria-Rivas. 
Jones wonders if it'll be years before they meet in person again, "This is a ridiculous question. Of course, I miss my friends. I wanted every day of high school I could have with them. Cause after we graduated we will all go our own way, I may not see them until our 10-year reunion. So yes, I miss my friends tremendously. I know with my very close friends, nothing will ever come between our friendship! Plus we still have FaceTime."
PROM IS DELAYED 
Students have many questions about the rest of the year's activities and what the plan will be for those. While the district still works to figure out the smaller details, students can rest assured that they are doing their best to postpone the bigger activities.
"I am very upset, but I'm still trying to stay hopeful that we will still have one. I was just about to get my prom dress hemmed and buy shoes and jewelry," said Jayda Brown who feels robbed of a unique experience, "I was kind of upset because this will be the last time I get to dress up crazy like that." She is hopeful it will happen at some point. 
Emma Maschka is glad it wasn't completely canceled, " I would much rather have it postponed than not have it at all. I think it's great that Mr. West and Mr. Smith are so invested in making sure we have a great end to high school even with the current circumstances." 
Some students look at it as something to look forward to with everything happening. While no official dates have been placed for anything, it allows them to continue to look forward to their last piece of high school. 
Riley Jones had already spent money on prom and would like to see it happen in some form, "I love the idea of postponing prom instead of canceling it altogether. It's like a light of hope during these dark days."
GRADUATION IS DELAYED 
While it wasn't a shock to seniors, it still hurt to hear that the day they have spent the past 12 years preparing for has been postponed. Many students have had to make big changes to accommodate for this.  
Big defining moments being changed so abruptly hit these seniors hard, "I love the thought of postponing graduation, I just hope I'm still here for it. My biggest frustration is the fact that I might not be here for it and my aunt and cousin had to cancel their flight from Oregon," said Iliana Chavarria-Rivas.
For some, it's not only the canceled trips and money spent on announcements but it's also the celebration at the end of a long journey, "I am freaking out about graduation. I spent money on graduation announcements, the family was supposed to be coming to town for it, I have worked so hard for this moment, so it upsets me. How everyone has put in the work for 4 years, to possibly not even have graduation. Even if we do have one, it will be later and some kids might be out of town or leaving for college already," said Brown.  
Many students are just glad they will still have a ceremony even if it's a few weeks later. Graduation is a big thing for many students and their families so hearing this was a relief. 
Emma Maschka is one who is glad it's just delayed, "Same as prom, I would much rather have it postponed than canceled. Graduation has been something I've looked forward to for almost my entire school career and it's comforting to know that it is still going to happen as far as we know, even if it is a few weeks later than we originally planned. I think the uncertainty is the most frustrating part. Not knowing a date makes it difficult to plan. But again, I'm glad it's still happening, no matter how late it could end up being."
THE END OF THE SCHOOL YEAR 
One thing that hasn't changed is the end of the school year, which has it's pros and cons. That date for seniors is still May 8, "I'm glad we don't have to do online school for longer than we planned, but it is also disappointing that my last day of high school is going to be at my house instead of at the school with my friends and classmates as well as the rest of the school," said Maschka. 
With the seniors last day not changing it also worries some about what the last few weeks may look like. Grades and finals keep seniors on their toes. These next couple of weeks are the last chance they have at being able to move on to their next phase of life. 
Maschka is worried about being able to stay on top of school work, "A part of me is definitely worried about how not being at school will affect my GPA in regards to the potential to switch to pass/fail, as well as keeping up the motivation to finish the year strong,"
Brown is stressed out over what finals will look like, " I'm worried I won't get the help that I need. Yes, I can email teachers, but it's not the same."
NEVER TO RETURN TO CAMPUS
When students left campus in March, they assumed they would return after an extended spring break. For them, this feels different and there are a lot of things they won't get to relive, "Seeing everyone, waking up and knowing that I have a whole day ahead of me, the satisfaction of finally getting to go home after school is over. I'm glad that I was able to participate in things, but I wish I could've been more involved and outgoing," said Brown. 
Some seniors are glad they were able to do things that other schools may not have had the chance to. Things like school plays, competitions and games faced difficult times as many were canceled before they could start. At the same time, some schools were able to beat the clock and barely finished their activities before everything was shut down. 
For Chavarria-Rivas, she is sad she can't finish her last soccer season and more, "I'm going to miss seeing my friends and teachers just a little more and not getting to have one more soccer season with my girls. I regret not taking more pictures with my friends so I can look back on more memories."
"I am going to miss being able to finish the year with my friends and classmates, and just being able to enjoy being with everyone on the last day as we celebrate all we've accomplished. I am beyond thankful that we were able to have our musical. There are many schools that had to cancel and my heart goes out to all those seniors who didn't get to have their senior show. It is such a special thing and I am so glad I was able to have mine. I do wish I had more time to mend some broken relationships and end the year genuinely happy with what was accomplished in my four years at EHS," said Maschka.
FINAL THOUGHTS 
Chavarria-Rivas says it will never be the same, but she has hope, "I hope that even though my class didn't get the senior year they deserved, that they will be the class to be remembered."
Jones knows life isn't fair, but she can't help how she feels, "I feel cheated out of my last month of high school from every experience."
Maschka believes this is not the last you will hear from the class of 2020, "We definitely feel lost, but it is in times like these when we need to remember that everything is temporary, even this virus. This too shall pass, and we will all be together soon, celebrating each other just like we imagined."