Students react: In-person learning comes to an abrupt stop
Rising cases of COVID-19 in Arapahoe County drive the decision to send students home for two weeks.
"We are all behind you, we are with you, we support you," announced Principal Ryan West during the morning announcements on October 29. It came a day after Englewood Schools decided to move all students throughout the district to "Rolling Remote" status, meaning all students will work from home for the next two weeks beginning Monday, November 2.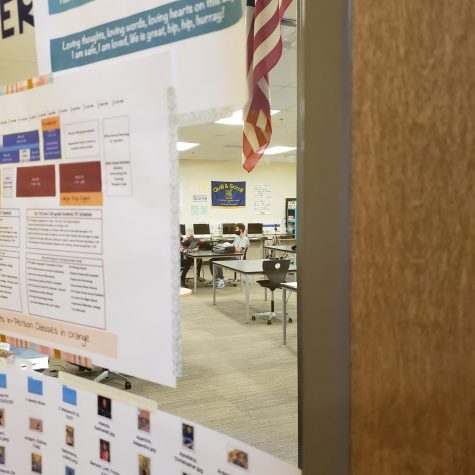 The news hit students and staff hard, "I think a lot of kids are going to have a hard time. They have difficulty learning in a real school. They don't have the help of a teacher. With online school, it's hard to stay on track and stay focused. There are a lot of distractions at home," said Junior Franke Foerstner.
While Englewood High School has had two positive COVID cases, one case forced Foerstner home for a week. He made the conscious choice over the summer to come back to in-person learning and doesn't want to be forced home again,  "I've already had to go back to online school because someone tested positive. I realized over the summer it would be beneficial to be in person. You have more opportunities to get the help you need." 
He says there is enough blame to go around for why Arapahoe County is seeing such a high number of COVID cases, "There are a lot of people I blame for the whole coronavirus. The government has failed at keeping people safe. A lot of regular people are to blame. Not wearing their masks in public, not being socially distant. So it's a lot of people's responsibility for what is going on." 
In making the decision to move to remote learning, Englewood Superintendent Wendy Rubin said in an email, "I share in the disappointment that we have gotten to the point that we need to go to Rolling Remote. We know that teachers and students have benefited greatly from being able to be in-person together since the end of August. We are also proud of the safe learning environment we have provided. However, with the number of cases continuing to rise in the community, we want and need to keep agreements we made to our teachers and staff to ensure the safety of everyone.
It is my sincere hope that the data in Arapahoe County will show us that it is safe to return in two weeks. In order to do that, our community must stay home when possible, wear masks, stay 6ft apart, and wash hands regularly. You can continue to track the data yourself by clicking here."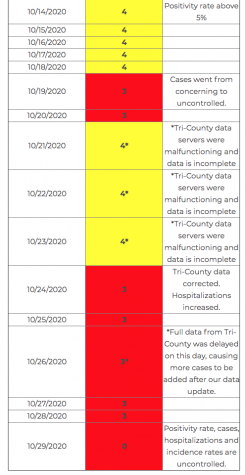 Freshmen students were just starting to get into quarter two classes with a new schedule and new teachers. The news is tough to handle, "I feel upset because like I just got back to in-person learning and then they're gonna like, take it away from us but I understand that it's for the good of us," said Marco Lopez (9). 
He is a soccer player who loves his classes. His favorite this year is an Honors class, "I think it would be Honors Global Studies. It is my favorite because I want to learn about the world more and what is happening right now." 
Lopez feels he is a better student when he is in the classroom, "I don't really like to do Zooms or just sit around in my computer, I like to actually have someone talk to me and show me how to do stuff. I want to get to in-person school as fast as I can so I can learn more."
Freshman Nathalie Gaucin hopes it only lasts a short amount of time, "It's kind of difficult I guess, but we're gonna do good. And I hope it only lasts two weeks."
For seniors, this is another hit to an already crazy year that has seen a late start and altered schedules. Senior Aiden Soderstrom struggles with the online environment, "I don't like it. It's not organized at all. Everything is happening at weird times. And sometimes with certain classes, you have to go to six different types of sites. It's kind of hard to do when you're by yourself and when you don't know how to do it. Especially if something doesn't go as planned."
Senior Christopher Apodaca is the kicker for the EHS football team and hopes to play soccer in the spring. He chose in-person learning for many reasons, "To be able to talk to my friends and have things explained by teachers, instead of having to email one hundred questions."
He believes if he didn't have football hanging over him as a motivator, he would not participate in remote learning, "Because no one is there to push me to do it. I'm not creating an environment where the school is all around me. Football helps because you want to play, but without that, I wouldn't do it.  The online stuff is confusing for me.  You have to open a lot of different websites and then close them and then go back to them. There's a lot of work in some classes."
Students who chose in-person learning have one hope at this point, that the remote learning only lasts two weeks, "Yeah, yeah," said Apodaca.