Is it worth it? Choir students say yes, with a lot of precautions.
Choir students are aware of the dangers of singing but find ways to safely move ahead with singing and performing.
Sophomore Riley Aikins is in her second year with EHS choirs. She and other choir members are going back to in-person practice, but it comes with risks and challenges. 
 "Yes, so it's very different but we're making the best of it we do online zoom calls so we can do our sight-reading and practice our songs together, and we have a lot of cool online tools that can help us continue to see during this crazy time," said Aikins.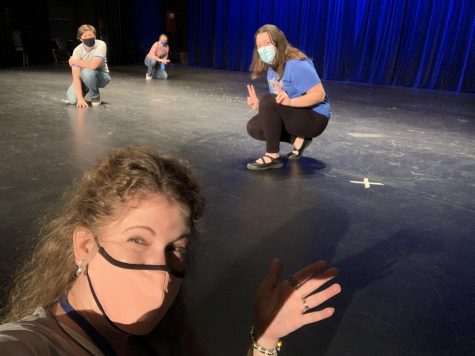 She says there are many things that still make the experience fun, "I think being able to see everybody on zoom and in person. Rehearsal times after school when we can, because we get to connect. And it just lets us see our peers and classmates."  
Choir can feel scary in a COVID world because many students have learned of the issues associated with singing. According to the Centers for Disease Control (CDC), there have been so called "Superspreading events" during choir practices. After a two and a half hour choir practice with a choir of 61 people, 32 of the participants tested positive for COVID-19 and 20 others were in contact with the symptomatic patients. This was an "attack rate of between 53.3% to 86.7%. Three patients were hospitalized, and two died. The CDC determined it spread so fast because participants were closer than six-feet and they were singing which  spread droplets at a quicker rate. 
Choir Director Garlyn Saddler has been struggling with how to safely allow students to participate in her choir program that has been a part of EHS culture since 1913. 
"I'm grateful to have this opportunity to get kids back to singing and creating music, and I feel it is important to do so." 
She knows the arts are important and believes they are enriching for our lives at any time, "but especially during these times – to bring about the expression and artistic communication of our lived experiences.  To tell about life, history, culture, language and so much more, through the text, emotion, color, creativity, sound, and power of the music."
Saddler says in a world of solitude forced by COVID-19, it is healthy to do something artistic, 
"Performing and rehearsing well invites the use of our whole being – our mind, heart, body, mind, and spirit, and compels us toward a sense of accomplishment, achievement, skill-building, team work, building confidence, and excellence," said Saddler.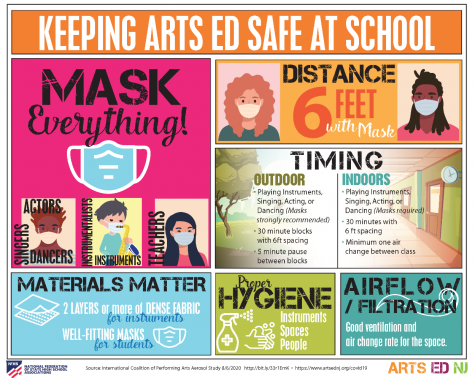 Saddler is following a series of crucial and important health guidelines to insure the safety of herself and her students, "We will be following all district in-person guidelines by having a check-in time for temperature & symptoms checks.  We will rehearse according to the "International Coalition of Performing Arts Aerosol Study", as led by the Universities of Colorado and Maryland. These studies and results are being supported and followed by area and national professional Arts (and other) organizations."
The main recommendations that have come from this research, as related to the Arts, include:
Everyone sings in a mask

Social distancing = 6 feet apart (we will start at 8-10 feet apart)

We will sing in a space for no more than 30 minutes.  If we rehearse longer than 30 minutes, we will go outside, or to a different space.

There must be at least 1-3 air exchanges with proper air filtration cycles before returning to a space we have already sung in.

Continued hygiene practices will be encouraged (hand washing, etc.)"

Aikens says there are future plans for choir and you will see a concert of some type this year, "We are trying to see if maybe we'll do a virtual choir concert or a live stream event, and so we can still get our music out and perform what we've been practicing." 
Students are ecstatic to be back in the choir room and be around each other,  "I think the kids are happy to get back to singing and being together.  Performing Arts and Singing was meant to share with others, and I think students are feeling that. Rehearsing and performing live with one another is an important aspect of our group work, and the very nature of the Arts is to be in a collaborative environment, " said Saddler.
More information about keeping students safe while singing can be found at the links below: 
 https://www.youtube.com/watch?v=u8JgK-vA8Qc&feature=youtu.be
Preliminary Results-Aerosol Study