Inspirational and way out of his comfort zone but normal as well
A Pirate varsity wrestler is given a unique opportunity.
"When I found out who I was wrestling, I was weighing in with my coach and theirs. After weighing in he said that their 145 pounder was blind and we could decide what we would want to do," said Senior wrestler Joey Mora. 
Mora recently got the opportunity of a lifetime. Wrestling a blind athlete. It happened on February 3, 2021, at a home wrestling meet versus Weld Central. 
Mora was matched with Asher Morelock, just as in any wrestling meet, based on size and weight. Both athletes sit around 145 pounds.  
"When he told my coach and me that his wrestler was blind I felt confused and I was filled with emotion after I heard because I have never thought I'd wrestle someone that wouldn't be able to see and I didn't know if I'd hurt him if we were to wrestle," said Mora. 
Mora asked his coach how it would be done and what he should do because he wanted to give Asher an experience that many may never get, "He's a wrestler just like me and wants to be a part of a team and treated just like the rest of us so why treat him like he isn't." 
The match was a bit different because he needed to stay in contact at all times, "The match was way different from what I'm used to and how I was taught. Asher needed to be in contact at all times to have a solid match. I didn't have a problem with that and Asher was experienced so I knew he would try shooting in for shots to take me down."
This was a unique opportunity that came with obstacles, "It wasn't just a challenge for him but it was also a challenge for me because I had to change up my fighting style and stance to spar with him." 
Wrestling Coach Lorenzo Moreno has been coaching wrestlers for years, "I grew up in a family of wrestlers, my father wrestled, my brother wrestled, my uncle's all wrestled. So growing up, it was just something that we did."
 Moreno started his career in Denver Public Schools at North High School.  He coached there for eight years, and this is his fourth year at EHS. 
He encourages his athletes and has a major influence on them, "I would say that I really like to challenge my athletes to really push beyond the limits that they think that they've set for themselves, both physically and mentally. A lot of times when kids come into wrestling they think they might not be able to do it. They might be a little intimidated because you're the only one out there, and everyone knows whether you win or lose, and they're not sure if the other wrestler is going to be stronger than them, or are tougher than them or know more than them. So what I do is I really try to push them to really take on any challenge and not be afraid."
Moreno says once they gain a little bit more confidence they get hooked on the sport. When he learned his wrestler Mora would go up against the blind athlete, he knew Mora was capable,
"So the cool thing about wrestling, it doesn't matter how big you are, how small you are. It doesn't matter if you have physical disabilities, there are wrestlers that have to wrestle with only one leg. There are wrestlers that wrestle with no legs. In fact, there was a national champion from Arizona State, who had no legs, and he won the national championship at 125 pounds."
The coach did know one thing needed to change. Mora needed to make some modifications, "So for blind wrestlers, they always have to stay in contact with who they're wrestling, otherwise it would be an unfair advantage for that person, you know to like pull away and then take a shot on him. So they always have to stay in contact."
Moreno says the greatest thing about wrestlers is the respect they have for each other, "Whether you're big, small, or have a disability, the respect to compete and the respect to be a competitor is huge."
Coach Moreno is very proud of Mora's performance on the mat, "The sportsmanship that Joey carried himself with, and the class and the dignity that he had for that blind wrestler was really a moment that we'll never forget as a team. He wrestled that kid as if he was a competitor, you know, and he did end up beating him, but again, it's not about the wins or losses. It's about having respect for your opponent and going out there and representing your school. We'll never forget it as a team." 
The experience was emotional for Mora, "It was definitely on my mind before the match and definitely on my mind after. It made me tear up after seeing someone like that go out there and show he's just like us no matter what is so cool and dope, that kid is a stud and that takes a lot of guts to go out there and do what he does. There were definitely some tears at the end because I felt like I gave him an experience many will not and I know he was thankful and seeing something like that made me thankful for what I got. I didn't care about the win at all, ya it's always nice to win don't get me wrong, However, I was just happy I made his night and helped him get closer to being an even greater wrestler." 
About the Writer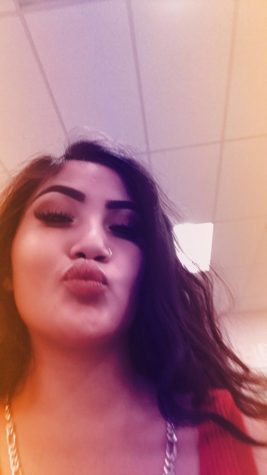 Vivian Cedillo, Pirateer Staff
I am a senior at Englewood High School. I think journalism is a fun way to get the news and express yourself.