EHS student art wins spot at District office
Logan is a jack of all trades when it comes to art, "I'm going to art school for film. Next semester I'm going to the Denver School of the Arts." She says she has never been good at sports or music, "So art has kinda been my thing."
We sat down with Logan and asked about her art piece which was chosen to be displayed in the district office. She also won $150. She plans to go out to a nice dinner with the winnings.  
Q: Tell us about your artwork? 
【A】: "My artwork is a mixed media collage made with magazine cut-outs, Prisma-color colored pencils, and googly eyes." 
Ҩ: What inspired the idea?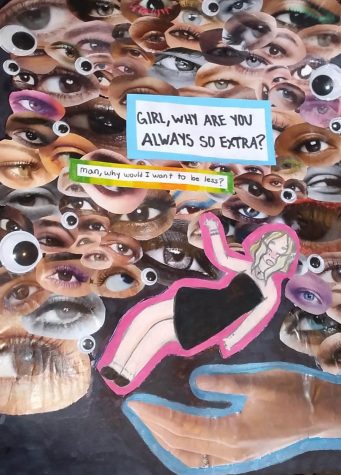 ᗩ: "During the time I was making my piece, my favorite album was Negro Swan by Blood Orange and my favorite song was Dagenham Dream. The last bit of the track is a monolog from Janet Mock. She talks about what it's like to grow up trying to shrink parts of yourself when trying to fit in even that isn't who you truly are. And I REALLY loved it and was really inspired."
≋Q≋: Your artwork was chosen to be displayed at the Englewood Schools district office. How did you feel when you learned you were chosen? 
 Ⓐ :  "Oh pretty shocked! Mrs. Ancona had really liked my piece and put it in the art show. But I didn't expect anyone else to really like it, since it was kinda a random passion piece for my final. Yet somehow it got picked! I was surprised but very thankful and excited."