Cheers Wins Game-Day League Championship
"It was really stressful because everyone was expecting us to win at our home school," said Senior Louise Carter who with her EHS cheer team won the game day league championship at home. On November 18, 2021, the Englewood High School Cheer Team performed a game-day routine in front of a packed home audience.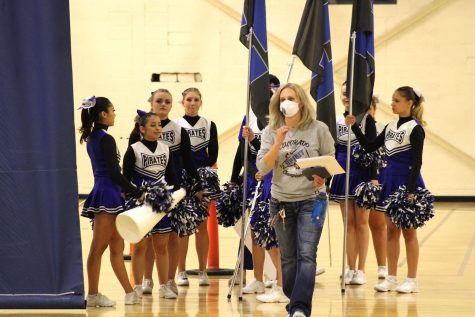 EHS was one of five teams from schools around the front range that came for the competition. Aurora Central, Fort Lupton, Skyview, and Thornton performed routines that ranged from varsity cheer to game day. 
Members of the team include Kadence Webber, Kloe Armijo, Louise Carter, Evan Humphrey, Brooke McKee, and Xoel Miller.  Evan Humphrey was selected as a Colorado League cheerleader of the year. 
Carter said this year has gone pretty smoothly, "After the weirdness of last year, we have gotten back to some normalcy being able to go to cheer camp, pep rallies, and football, in general, has gotten back to where it was in past years. It was also the first year since I have been n this team where we didn't have a last-minute tryout giving us a lot more time to perfect our routine."
She explains how grateful they are to have had a head start with the season, "without restrictions we were able to get going in August. I went pretty well with a few hiccups. But as the competition came closer it was very stressful to pull it together. We also had no big injuries or people quitting this season. Overall I think we were prepared and ready to succeed."
But Louise still had doubts, "On competition day I was terrified. Tensions felt really high and a lot of us felt the pressure building on us to succeed at our school. We really wanted to win but with a video floating around of the other team we were a little nervous. It was nice to get out early and gave us a chance to go through some traditions and take a break. I have to say my favorite part of the whole thing was right before the competition began we brought all of the schools together to play one big game. It was awesome to see the tensions all break down and just be a group of people playing a game together. I loved that moment because I think it's what prepared me to do my best."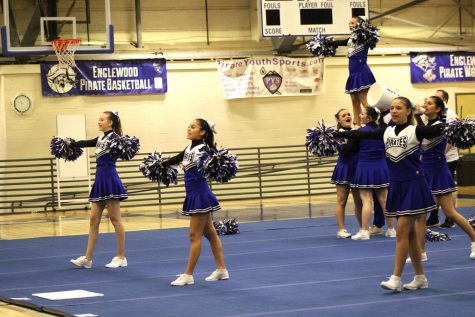 Another senior on the team Kloe Armijo said, she thinks the season went well, "This season has been really fun and interesting with all the different personalities we have on the team. I've enjoyed getting to know all of them and we've all become really close compared to past seasons I've participated in."
Armijo said, emotions were high but the team was prepared, "Practicing for competition season can be really stressful but we all worked our butts off to make sure all of our stunts hit and all of our emotions were tight. We definitely had our bad days but we wouldn't have won without learning from those mistakes. The day before comp coach had brought in some people who happened to be in the gym to watch us go full out one last time and I feel like that really helped the new girls prepare for a real crowd."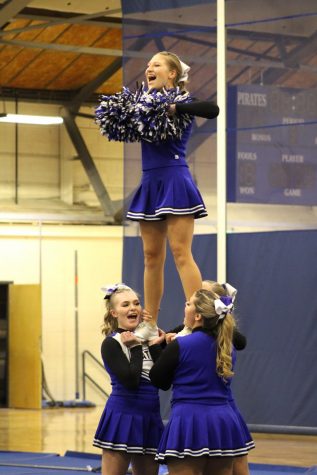 Kloe Armijo eagerly explained what went on before the competition, "The day of the competition was so fun. We went to go get our hair done, we went out to eat, then we came back and started setting up mats to prepare for Leauge. After we set up mats in the high school gym as well as the middle school gym, we had about an hour to finish getting ready and things were starting to feel real. We all practiced long hours to perfect everything but once it started getting closer to 6:30 we all started to get nervous, even the cheerleaders who've been on the team. Right before we walked on the mat, looking at the crowd was crazy, so many people came to support and it felt unreal. After we competed we ran off the matt and we all started jumping around and hugging each other in excitement. I'm just glad I got to experience winning League for my final year of cheer and I wouldn't have wanted to win it with any other team."
Next up for the EHS cheer team, state competition in December.