Senior Deadlines: Things you need to know BEFORE graduation
What do seniors need to do to graduate?  Being a senior can be tiring and stressful because senior year goes by fast for most 12th graders. There is a list you need to stay on top of in order to be successful during your senior year."
James Walsh is the post-secondary advisor. He says it is important for seniors to stay up to date on the stuff that they need to do, "They need to do quite a bit because everything kind of starts early in senior year, and making sure they're on top of things makes it easier for them once they get closer to graduating."
He says it is not so overwhelming if you start early in the process. "November onward, applying to college, starts to get busy. So there isn't a specific deadline for applying but it might as well be November 1, because that's when you want to get everything in so you can get word back that you're into those colleges and then fill out the FAFSA. The priority deadline is November 1. So that's an important date for all seniors because that's when you can get the most money from the FAFSA."
Walsh says through November, different scholarships start opening so you need to get letters of recommendation, and your essay ready to go.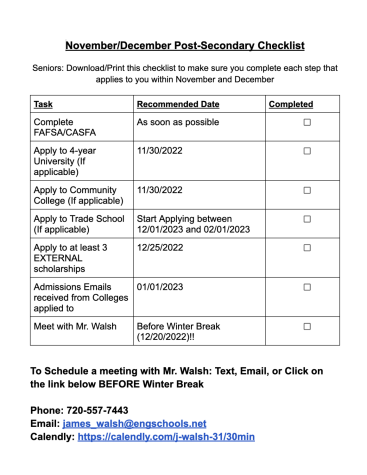 From James Walsh- Current Available Scholarships
White Rose Scholarship – click HERE to upload the application from the website – Due January 14th
Applicant Eligibility: You must

1)

Be a US Citizen

and have lived in CO for the past year.

2)

Demonstrate financial need

and be able to submit your parent's or personal tax information as proof.

3) Be either

applying or admitted

to a school after HS.

4) MUST be involved in one or more community service activities.

5) Have a cumulative

GPA of 3.0 or higher

. 
Society of Mayflower Descendants $1,620 Scholarship – Go to Walsh's office for application – Due February 15th
Applicants MUST: Be willing to write an essay regarding Separatist parishioners and their impact on living in "New Plymouth". 2 Letters of recommendation are required as well.
Daughters of the American Revolution Scholarships – amount varies – Click HERE to check out different scholarships
Eligibility requirements can be found under each scholarship from the link above
External Scholarship Databases
Note:  Create an account for these websites to apply to any external scholarships that you are eligible for!
Leave a Comment
About the Contributor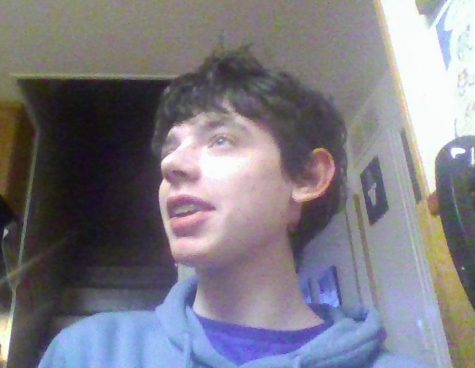 Felix VerCande *, staff writer
Hi, I'm Felix VerCande, I'm in 12th grade. My favorite class is journalism because I get to take pictures at games. I like to read Marvel comics. My favorite...