Shooting for state
"Getting a new coach was the highlight of the season as well as growing with the team." Naomi Vazquez
This was a very successful year for the girls' basketball team finishing the season 17-7. The Englewood High School girls were well prepared to play this year. This will be the last year playing basketball for senior Ambar Cruz. It is a strong way to end her high school career. She has played for four years and loves being part of the team. She says she joined the team, "as a way to get out of her head." She says it can be a struggle to manage school and sports, but she finds the inner strength to better herself.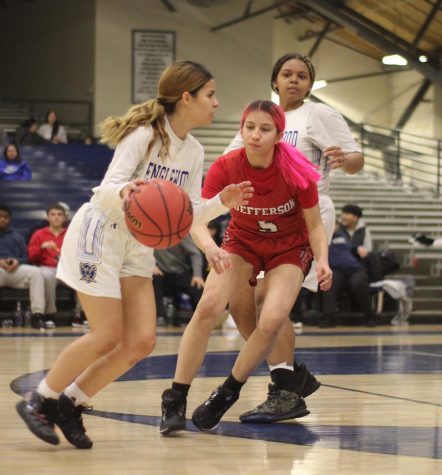 Jaliyah Mora is a junior and has played basketball her entire life and can't say enough about this year's group, "It is an outlet and being a part of an amazing team and sisterhood." Mora says she is inspired by her brother who is in the Army, "I know he's working hard so I need to do the same." Mora was crowned player of the game on February 13, 2023, against Kipp Denver Collegiate.
Junior Olga Gutierrez has been playing basketball for two years. She also did soccer and volleyball at EHS. She says it's a family thing to join basketball, "Because my family went here and played basketball." The biggest stressor for Guttierrez, "When we would have close games and when they would be crazy games."
"
"Making it to state was the best thing that happened during the season." "
— Ambar Cruz
11th grader Jonae Harris has been playing basketball for five years.  Harris said that she joined the team because of her friends. She says her friends Amber and Olga inspired her to improve. Harris believes she does better when she focuses, "I am dedicated and I have a love for the game." 
Alex Harkness is a junior on the team and has been playing since elementary. She also plays soccer and track. She joined the team "because of her love of the sport." 
Freshman Samantha Vasquez has played basketball since middle school and also runs track. Vasquez trains for this sport a lot, "we condition and practice." Vasquez says to be a great player you need to have "courage, bravery and hard work." When she is asked who inspires her she says "the varsity boys." To be a good player you must have dedication which all of the girls on the team have in common. 
The team made it to state this year, but lost to Delta. The season ended 6-1 in league play.