The Rules of the Road
A little known booklet has rules that guide your experience at EHS. How much do you know about the student handbook?
The Student Handbook
School is a community and within every community there are rules. Some are common sense, like being on time to class, doing your work, and engaging positively with your classmates. Some rules are written. In order to keep Englewood High School a safe, efficient, and focussed place to learn, students have the Student Handbook. 
The Student Handbook is created based on rules outlined by the Englewood school board. Within its 118 pages, you will find information about the schools, clarity surrounding student medical information, parent/guardian and student rights and responsibilities, and clear expectations related to student conduct and discipline. 
Students at Englewood High School get a paired-down version in their yearly planners, handed out at the start of each school year. At the front of the planner, there are 18 pages outlining rules as they apply to your day-to-day issues within the EHS walls. 
Yet, The Pirateer spoke to dozens of students who had little to no knowledge of the student handbook and had never seen the rules at the beginning of the planner because they say, it had not been presented to them at any time during the school year. Principal Ryan West says it is an important piece of information that needs to be highlighted, "In the past, it's just been printed in the front of the planners that we give out to students. But it seems like especially in the last couple of years, nobody uses those planners and so nobody even sees it. So we need to find a better way to roll out the student handbook probably through seminar class and through being intentional the first few weeks of school, especially with our new students in with our freshmen that are new to our school."
Here we break down the relevant parts of the student handbook and talk about important pieces. We also talk about possible solutions EHS could implement at the start of next school year. 
Attendance/Tardy Policy
An attendance and tardy policy are vital parts of schools that keep order and help students stay in check. However, students wonder what defines tardy or absent and when it can be excused or not. Sophomore Serenity Gambrell says there are a lot of unknowns, "I know very little about the school's attendance policy. I know you're on time and if you are in class before the bell rings, I know you're late, If you're in class after the bell rings."
As attendance is extremely important it should be highlighted and a vital topic within the handbook. The importance of students and teachers knowing the topic, specific details, and any wiggle room is important, "because some teachers will just mark people, depending on what they see, not knowing the situation," Gambrell said. 
In addition, teachers have varying policies on make-up work.
Student say, solutions to the issue include directed lessons for students, a clearer definition in the handbook and more consistency across the board for teachers. 
Grading Policy
Similar to attendance, a grading system is an important part of all schools. They are the main criteria that judge students on how well they are doing in school. It benefits all students to know the grading policy so they can understand how they are measured. Most teachers hand out a syllabus at the start of the semester, but not every teacher spends time on it in class. Students say they know very little about the topic. For example, most students don't know that teachers are no longer allowed to give 0's on assignments, under certain circumstances, and that grades in math classes can be very different from other classes.
Students we spoke to said the grading policy should be taught and presented and therefore understood by everyone in the school. Senior Robyn Gusek says transparency is important, "I think it's important that both students and staff have a good understanding of how the grading policy should work. That's why it's fair for students and staff to keep it consistent. So students can have a better understanding of what the expectations are and what the grading system is going to be."
This issue is a little more difficult to solve as Career and Technical classes have different grading standards and practices then core classes. In addition, teachers vary in how they grade in each class. One other issue students brought up consistently is the lack of a specific timeline for grading and assignment turnaround times. 
Code of Conduct
According to the Englewood Student Handbook, Conduct and Discipline issues are addressed on pages 82 through 117. Violent and aggressive behaviors are outlined on page 82. The rules on the fighting policy state that in a fight, even when being attacked, if you throw a single punch back in defense, you could face suspension. While the handbook includes weapons violations, bullying prevention, drug and alcohol, gangs and behavior towards teachers and adults, it does not expressly talk about repercussions for in school fights. Those rules, which are laws under police jurisdiction, are handled by school security, the on site police officer, and the Dean of students to keep the peace in EHS halls and classrooms. 
Students like sophomore James Trujilo say "Self Defense wise I feel like it's kind of unfair. If the guy is perceived to hit on you, there is a natural known body fact that you're gonna punch back." Junior Matthew Dreiling agrees and thinks "I feel like if someone is being bullied or harassed, they shouldn't be in trouble. If they do something to protect themselves."
Trujillo says "I feel like you don't need to really hurt like brutally hit the guy. But like if he's hitting on me and I'm saying you can at least allow like a punch back or allow a couple punches back." 
Students believe the idea of the rule itself is a good rule to prevent fighting. Dreiling says "I feel like the school fight rule is very strict on a no fight policy, and they have been very strict about it for years now. It's a good fight rule. Because it does get both of the people involved in trouble." 
What security says 
However in the rule there are exceptions to self defense that differs it from fighting and defending yourself. Security guard Rod Butts said they have tools at their disposal to figure out the who wa the instigator in most situations, "We had the luxury of having video, so we can see who the aggressor is and who is just trying to defend themselves." This means that if you take the right actions when in a fight you can walk away without punishment. 
The school will not automatically punish you when in a situation like this. School resource officer Matt Creaghe says they take care to investigate thoroughly, "We're trying to investigate the matter completely. So where did it all start from? What happened there in the incident? and then what happened there afterwards?" The school has to differentiate students who were a part of the fight and also the aggressor and victim. "There is in fact a difference between a person who has been assaulted without having done anything. And then a person who has willingly been a participant in a fight. So that's why we do have laws in place that address those specific things," Creaghe says.
There is a lot of confusion and students clearly don't know much about the rules on fighting. Butts tells us "Almost all of our violence related rules are just based on the current laws in the government, and it helps us to decide punishment for actions as well." It's important for students to know the rules and how they can avoid them, but when you read the student handbook, students say all of the rules are very broad. 
Dress Code
A dress code is an important part of school rules and has been for many years. You can find that information on page 13 and 14 of your planner. Students have a lot of choice including religious clothing, self-identifying gender clothing, and comfortable clothing. Junior Josue Lopez Diego knows he can't wear something that has offensive images, profanity or hate speech, "I know that like here in Englewood, it's not too strict. But I know that we have one." 
Students may not be aware that the dress code at EHS is very inclusive and aims to keep students in school and in class while allowing self expression. Sophomore Naomi Vasquez wishes to see "evenly distributed rules on what we can and can't wear like, with girls and guys" in the dress code rules.
School Features
Back in November, The Pirateer explored other issues students weren't aware of around campus, namely, transgender bathrooms. Student journalist Hailey Rae Darras conducted a poll 
on Pirateer.com, and found the majority of students in our school have no clue where the gender-neutral restrooms are on the TEC campus. LGBTQ+ student Elliot Oman-Blanton wasn't aware of them, "I haven't even heard of them until recently." 
In 2008, Colorado lawmakers worked to ensure that public places were safe for all genders and passed a law that forbids discrimination on the basis of sexual orientation and gender identity in public places, including schools.  
Then, in December 2014, the Colorado Civil Rights Commission included language called Rule 81.9 of the Colorado regulations, which requires employers to permit their employees to use restrooms appropriate to their gender identity rather than their assigned gender at birth without being harassed or questioned.  
It reads Rule 81.9 – Gender-Segregated Facilities. (A) Nothing in the Act prohibits the segregation of facilities on the basis of gender. (B) All covered entities shall allow individuals the use of gender-segregated facilities that are consistent with their gender identity. Gender-segregated facilities include, but are not limited to, restrooms, locker rooms, dressing rooms, and dormitories. (C) In gender-segregated facilities where undressing in the presence of others occurs, covered entities shall make reasonable accommodations to allow access consistent with an individual's gender identity.
The school counselor and current Gender and Sexuality Alliance (GSA) representative, Amy Bricco says she knows how important it is to have these facilities, "because, under Title Nine, we're not supposed to discriminate. So they should have free access to every bathroom and then if any student doesn't feel comfortable with that, then those students can go and use the single-stall bathrooms." 
 Sophomore Arabella Stell had a suggestion, "When freshmen come in, they go through freshman orientation, and adding that onto the tour could get that out much more."
In addition, Englewood Schools is a "self-identify" district in which students can add a preferred name to the yearbook. This decision was made in 2015 by Superintendent Wendy Rubin. It is also one of the issues students aren't always aware of when they start school in Englewood. 
Taking Action
Many of the students interviewed for this story would like to see explicit rules around fighting, self-defense, grading, attendance and the tardy policy. They would also like to see more express details on the dress code and school features outlined in the students handbook in future editions as well as a pre-school meeting and seminar lesson to explain the rules. 
The solution of adding lessons to seminar classes is welcomed by seminar teachers, "I absolutely think that would be a good idea. I would say it would need to probably be split into, who knows 5-10 different lessons because there's a lot of information in there," says English 2 and 3 teacher Scott Silva. 
Principal West would like to figure out a way to include student voice in the roll out of the Student Handbook, "I'd like to put together a student leadership panel, where students feel like they have a voice and if there's things in there that are concerning to students, they're able to address them to me or to one of the other assistant principals and we can make any changes that students want and is agreed upon by staff."  
Leave a Comment
About the Contributor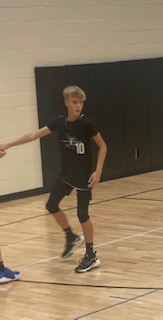 Dylan Noll, Writer
Hi My name is Dylan. I am a Freshman at Englewood High School. I enjoy Playing basketball football and running track in my free time. One thing that is...