"I really enjoyed Math Day. The entire day was extremely enjoyable and I never once got bored. I specifically enjoyed the lecture on log concavity that was given. I found it very interesting. As for the competition aspect, it was also fun as the questions really made me think. I'm excited to do it again," said Rafael Lopez Hernandez (10).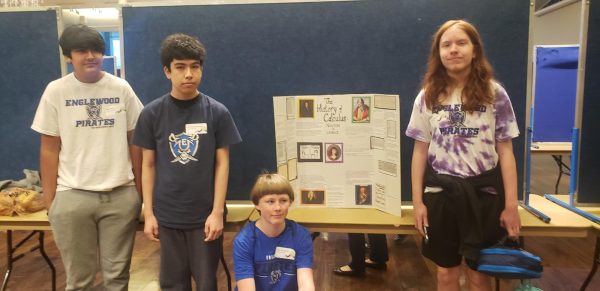 EHS students made a day trip to Colorado State University to take part in the MATH DAY 2023 held on Thursday, November 2. 
Students Erin Altenhofen (12), Tyler Chmielewski (9), Rafael Lopez Fernandez (10), Kaizen Gutierrez (9), and Edwin Ruiz (10) attended the event with Dr. Brandy Bourdeaux.
According to the CSU math website, each year since 1977 the Department of Mathematics has hosted Colorado State University's Math Day. It attracts 300 to 400 of the best high school math students from Colorado and neighboring states for a day of mathematics exploration.
"Math Day was enjoyable. It was fun to do math with others that share a common interest," said Tyler Chmielewski (9). 
The event includes a Math Day Public Lecture Series and Mathematics Fair. They listened to the keynote speaker, Dr. Dusty Ross of the University of San Francisco talk about chromatic polynomials and log-concavity (fancy terms for some fun geometry problems!).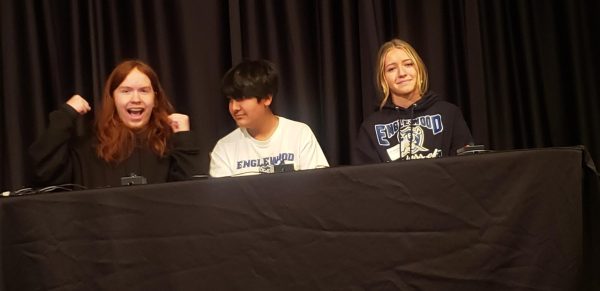 These events give students a chance to explore everything mathematics has to offer, and to showcase some of their work.  EHS students presented an investigation into the history of calculus, they took part in the event where they solved competition-style math problems going head to head with other schools and making it to round three. It was a college-bowl-style competition double-elimination tournament with 3-member teams from 64 schools.
Then they participated in the poster session and advanced up through Round 3 of the Small School Competition, in which they sat for 12-question rounds of challenging math and critical thinking problems.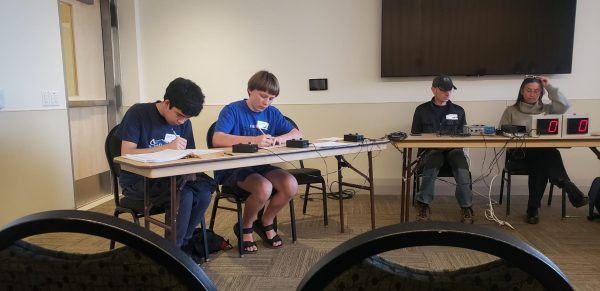 "The CSU Math Day competition went very well! I'm happy with where we ended up. Although we ended up eliminated in round 3, I'm very proud of what both of our teams accomplished and am overall very pleased with the experience of attending a large, almost convention-like math competition,"  said Kaizen Gutierrez (9).