Julie Ax, Pirateer Staff
Seniors at EHS are in their last few days and shared their future plans with the Pirateer Staff! Good luck Seniors!!! ...
May 10, 2017 • No Comments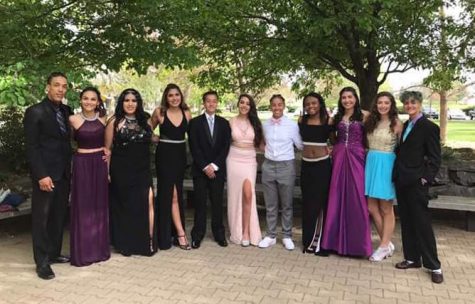 Ikaika Gonzales, Pirateer Staff
   It was tuxes, long flowing dresses and smiles for those attending the 2017 EHS Prom. It was held at the Lake House at Cherry Creek. It is a right of passage for seniors who get to finish their high school years with a ...
May 10, 2017 • No Comments

Jaydin Webb, Editor in chief
    Rise and shine TEC students! School will begin 5 minutes earlier when you return from summer break for the 2017-2018 school year. District officials have been working with the public, teachers, administrators and instructi...
May 8, 2017 • No Comments
View All »
Englewood, Co.-Singing pop hits and classic favorites, the Englewood High School choirs come together for one final show this school year. The concert begins at 7:00 Thursday in the EHS theater....
May 11, 2017 • No Comments
Christopher Uriarte, Pirateer Staff
     Their voices were strong and right on key. Englewood High school choirs traveled around the state taking part in events and competitions to prove their talent.      ETC and Expressions Choi...
May 10, 2017 • No Comments
State-wide judges sing the praises of Englewood choirs
April 24, 2017
April 17, 2017
April 6, 2017
View All »
@TECPirates
Pirateer Facebook
https://www.facebook.com/EnglewoodHighSchool/
Cody Baldridge, Staff Writer
     The TEC campus is brimming with technology. Students use iPads for daily assignments in class, Netbooks for test taking, and can participate in Quizlet or other assessment on-line tools ...
April 17, 2017 • No Comments
New stress group starting at EHS
March 23, 2017
EHS Counselors want you to join them on the Thursday after Spring Break for a new stress group. Watch the video to learn more!
TEC students learn about the holocaust
February 10, 2017
In the late 1930's, a young girl, just 7 years old at the time, went by the name of Enya. That was before her Jewish heritage would put her in danger. It was the time of Hitlers Germany. Now, it's 2...
Your thoughts on the elementary schools in Englewood
January 23, 2017
Englewood, Co.-Your opinion is needed. Now that voters in Englewood approved the bond and mill levy, district leaders are beginning the process of planning for the new elementary schools and preschool...
View All »
https://youtu.be/jQ6y8nEho9k
Hi and welcome to the final edition of the EHS announcements for the 2016-2017 school year. We've had an amazing year. We asked you what you thought...
Hi and welcome to the Englewood High School announcements for the week of April 20th, Congratulations to Mr. Emery and the band for a huge win this...
Polls

Loading ...
Healing Our Youth: Get Educated! is a youth mental health educational program that educates schools (teachers, administrative staff, school employees), parents, and community me...
April 21, 2017 • No Comments
Job Readiness Day on Friday, January 27th. It is a FREE day of workshops to support you in meeting your New Year goals and getting the job you want. Talk to experts fr...
January 23, 2017 • No Comments
There is now a way you can text experts who can help you with financial aid issues! The tool, known as LendEDU Financial Aid Hotline, is a free text-in service designed to quickl...
January 23, 2017 • No Comments
Stock Market Challenge: EHS students trade a day of school for a day trading
November 4, 2016
September 14, 2016
Residential property management (RPM) program at Ball State University in Muncie, IN.
July 19, 2016
View All »
Photo Gallery