Halloween at EHS
Why do we dress up? Are we too old to trick-or-treat?
Hang on for a minute...we're trying to find some more stories you might like.
Hugh Hefner is walking the halls of Englewood High School on this Halloween day. Senior Carlos Martinez has a red robe, a captains hat, and a pipe, harking back to Hefner's heydays.
"I wanted to dress up because it is the spirit of Halloween because we are all grown up and I wanted to hold on to my childhood," said Martinez. "I think I'm too old to trick or treat because I don't have time for it, I have to work today but you are never too old to dress up." His costume is from Spirit Halloween, a costume shop that opens for a few weeks every October.
"
The Englewood police would like to remind you of a few important things tonight.  Toni Arnoldy, the City Community Relations Coordinator says to dress appropriately for the weather, don't go alone, go in groups and all of the cities laws and rules are in place."  She says police may contact you to make sure you are doing well. Please remember to be respectful and let them know what you are up to. This is a special night to you, but remember every night is like Halloween to the police. She says, "Be smart, be safe, be good and do the right thing." "
— Toni Arnoldy
Halloween has changed a lot over the years, as the holiday is a melting pot of many different origins. Halloween, for the most part, gets its roots from the pagan Celtic festival called Samhain, which was celebrated on the same day. It was believed that the dead returned on this day, similar to the Mexican day of the dead- also a tradition that heavily influenced Halloween's particular gothic and ghoulish tone and style, all according to history.com. But Halloween isn't just fun and games.
According to safekids.com, around three-quarter of all parents have safety concerns for their children on Halloween night. There is a range of concerns surrounding the holiday, from obesity and other health risks to candy tampered with drugs and weapons.
Most teenagers stop trick-or-treating between ages twelve and sixteen, according to time.com, but should there really be a time when someone should enjoy one of the key festivities of Halloween? We asked students about their own experiences, to fill us in on what the appropriate age limit for trick-or-treating really is. "We should all have a chance to trick or treat, even as adults because we should be able to have fun," Vivian Cedillo (10) said. Jocelyn Leal (10) thinks students should be able to have a safe evening, "I like Halloween because it is a holiday just for kids and we can hang out and have fun." 
"I think we should be able to go out as teenagers because we could be doing much worse stuff and we aren't. We just want to get candy," Shelby Black (9) said. "It is not really anyone's place to tell you if you should or shouldn't go out and trick or treat," said Riley Talley (10).
There are only a few students who wore costumes in the high school. There was no policy against wearing an outfit for the holiday but students had to stay within the dress code guidelines.
"I like that everyone expresses themselves during Halloween," said Jason Turner (12). "I think Halloween is fun and we get to dress up and hang out with friends," said Hannah Drolshagen (12).
The Englewood police would like to remind you of a few important things tonight.  Toni Arnoldy, the City Community Relations Coordinator says to dress appropriately for the weather, don't go alone, go in groups and all of the cities laws and rules are in place."  She says police may contact you to make sure you are doing well. Please remember to be respectful and let them know what you are up to. This is a special night to you, but remember every night is like Halloween to the police. She says, "Be smart, be safe, be good and do the right thing."

About the Writer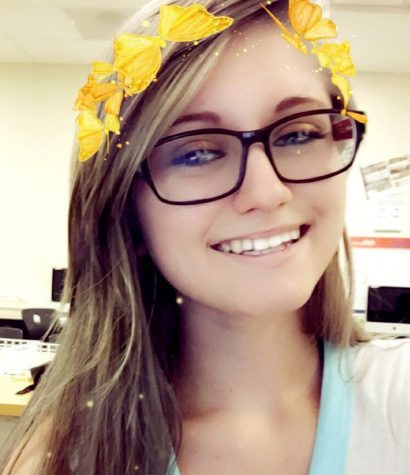 Jaydin Webb, Co-editor in chief