EHS student wins congressional recognition
A call to come down to the main office is not usually great news, but on Tuesday, 9th grader William Moraja got the call and was greeted by a high ranking member of Congresswoman Diana DeGette's office.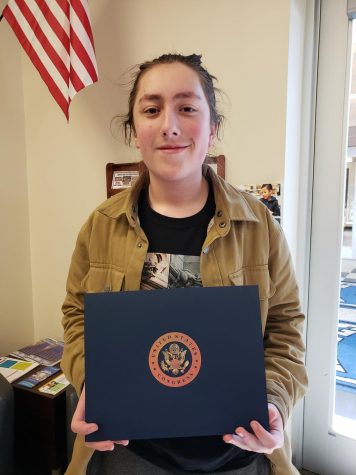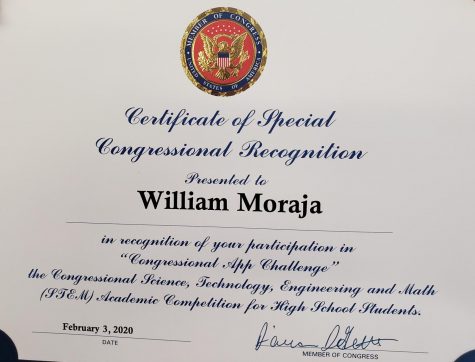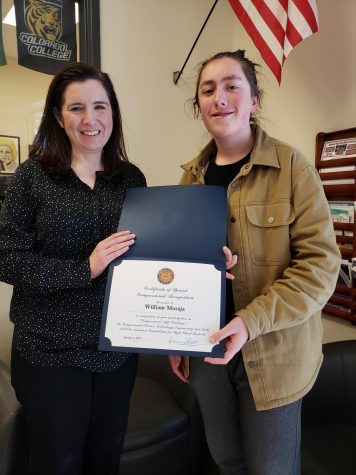 Moraja and junior Desiree Munguia were the recipients of a Certificate of Special Congressional Recognition. It was presented to Moraja by Alejandra Garza, by the senior congressional aid to Congresswoman DeGette. 
These two students are winners of the Congressional App Challenge, hosted by the Congresswoman. Garza said she was impressed with the number of students from Englewood who placed in the contest, "We had entries from all over the first congressional district. Of the top three winners, two of them came from Englewood High School, and we are just so proud of them and grateful for your participation."
Moraja was in shock to learn he placed in the competition, "I felt pretty good. I was not expecting it." 
He did work hard developing his app, "My app was about a fisherman who is kind of down on his luck. And it's an interactive storybook. You can kind of choose what happens to him. And there's a couple of options where you go to jail. Actually, a lot of options where you go to jail. There's a few where you make a lot of money, a couple where you become homeless." 
The contest was announced in July. Representative Degette (D-CO) sent the challenge out to middle and high school students around her district. It is part of a nationwide app-creation competition sponsored by the U.S. House of Representatives. It was created to encourage students to become more involved in coding and computer science in general. 
On her website, Degette said she believed in the students in her area, "The students in our district are some of the brightest and most creative in the nation," DeGette said.  
 Students were tasked with developing the most unique, creative and user-friendly new app. Students were allowed to use any programming language (C/C++, Java, JavaScript, etc.) and any platform (desktop, web, tablet, mobile, etc.) they choose to create their app.
 A panel of judges – selected by DeGette – chose one winner from the First Congressional District to go up against the winners chosen in each of the other participating Congressional districts across the country.
Winners of the nationwide competition were invited to attend a special reception in Washington, D.C. where their app will be displayed in the U.S. Capitol Building and featured on the House of Representatives website.
As a freshman, Moraja is just starting to think about where he wants to go to college, "I was thinking Mines, but I'm not sure." 
Winning an award for an app is amazing but he also knows a congressional recognition will look nice on that college app.