Back to the Grind: EHS football players get their season back
EHS football players unexpectedly get a fall season
"I think there are positives and negatives to playing now. I think one negative is that there is very little time to prepare for the season," said senior Zack Cave who plays running back and safety for the Englewood Pirates. He is excited that EHS is among a few Colorado schools that will play football in the fall, but he has some concerns, "If we were to play in spring we'd have a lot of preparation."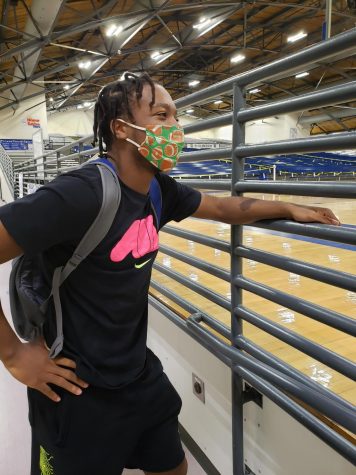 But, it will be fall ball for EHS. Fall is in the air, and during any normal year, Englewood's Pirate Stadium would be filled with the sounds of football, soccer, and cross country as athletes practice to compete in match-ups. But, this is a different world we live in and the sports schedule changed dramatically in response to the COVID-19 outbreak. Soccer has moved to spring, and cross country has limited meets to keep athletes safe. 
Playing this late in the fall is not normal for high school athletes. If they make it to the play-offs, temperatures are a lot colder than players are used to and the chances of playing in the snow increase, "I don't really care much about a late start, as long as I get to play football, but I did prefer to play in the spring. Because when we start now, we'll probably be playing into the winter, it gets a little cold at night, so I rather play in the heat. I prefer that over the cold."
What Changed? 
With pressure from Colorado Governor Jared Polis, high school football for Englewood athletes will begin this week. 
On Friday, September 11, Gov. Polis surprised many when he announced he was working with the Colorado High School Activities Association (CHSAA) to make it possible for football and field hockey to move ahead with practices and games in the fall.
 In a Tweet the same night, Gov. Polis said, "We are currently working with @CHSAA to approve variances for football and field hockey, and we will work together to develop guidelines or variances for additional sports at a later date and indoor sports when they can safely be played."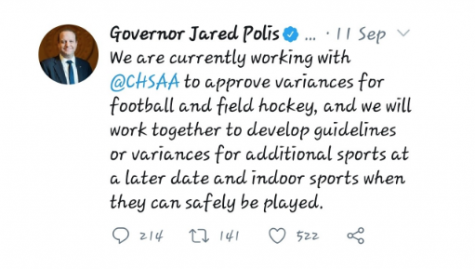 Also included in the news conference was a statement. Polis said, "the window is still open."  
Englewood High School teams had only allowed softball and cross country to move forward. Football was up in the air.  
According to CBS 4 Denver TV, CHSAA released a statement saying commissioner Rhonda Blanford-Green would be meeting with the governor's office on Friday to "gather information about potential variances the state would allow for all sports." That started a flurry of activity by CHSAA board members and Athletic Directors at schools all over the state. 
It's in the Numbers
High School football, at first, was moved to spring as part of CHSAA's return-to-play plan. In July, commissioner Rhonda Blanford-Green tweeted:

The plan for the 2020-21 school year included four seasons and condensed schedules. Since July, the state of Colorado has seen declining coronavirus cases. That and protests by parents and coaches across the state led the governor to move to reconsider the decision.
The Decision
Englewood High School principal Ryan West was significantly involved in the decisions, "I serve on the Board of Directors as the representative of the Colorado Association of Secondary School Principals." 
West says Englewood had no control over whether the football season started in the fall or the spring, "CHSAA has all along wanted to play all of the sports during their traditional seasons. However, the initial calendar that was approved by Governor Polis and the COVID-19 task force only allowed Cross Country, Softball, Boys Golf and Boys Tennis to be played in the fall." 
"
"I think colleges look at the senior year as the most important year because it's the closest to your freshman year at college so it is really important to get senior year film out to colleges. I had a lot of junior year film and I haven't had that many looks yet just because I was a junior. This is really important for me to have a strong season and good stats." "
— Senior Nate Gravagno
West said that about two weeks ago, the Governor and the CHSAA Commissioner had an informal conversation about bringing back high school football. At that time, several other states, including Connecticut, Delaware, Michigan, and Louisiana were also bringing back fall football after having initially moved it to the spring. Before any of this could happen in Colorado, West said, "the COVID-19 Task Force had to reconsider and approve the variances that CHSAA had originally asked for in order to allow football to be played during the fall season. Once those variances were approved on September 16th, the CHSAA Board of Directors met that same night and also approved the ability for schools to choose to play football during the fall if they were ready to do so."
So, West said, final approval came from the individual schools. Each school had the choice to play in the fall or wait until the spring, "Across the state, 79% of schools are choosing to play football this fall, including Englewood High School."
West is thrilled athletes get to experience a season and have some sense of normalcy, "I absolutely love it! Without question, I believe it's the right thing to do as long as we are following all of the safety protocols. Our students and our community need something normal back in their lives. The excitement that I have seen on the faces of our players, our cheerleaders, our coaches, and most community members tells me that we made the right decision. I'm excited to see what this season will bring." 
Weighing the Risks
Junior running back and linebacker Shawn Fox is excited to play in the fall instead of playing in the spring. He knows there is a higher risk to all involved hitting the field right now, "I think playing now is a higher risk of someone getting COVID then playing in the spring, but we are getting ready to do well on the field. We need to just go out and play now."
Senior Nate Gravagno is a receiver and linebacker and is one of the top receivers in the state, 11th overall in receiving yardage from 2019. He is hoping to play D1 college football but needs to play so recruiters can see that he hasn't lost momentum from last year,  "I think colleges look at the senior year as the most important year because it's the closest to your freshman year at college so it is really important to get senior year film out to colleges. I had a lot of junior year film and I haven't had that many looks yet just because I was a junior. This is really important for me to have a strong season and good stats."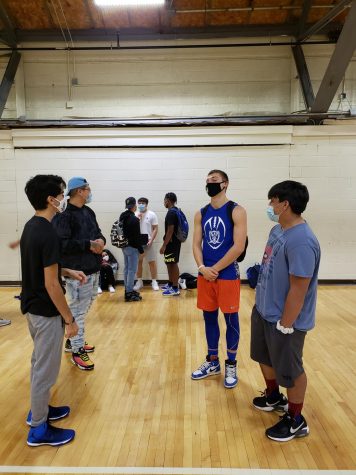 Senior Zack Cave agrees, "Oh, we do have a lot of other films from sophomore, junior, freshman year that we could always use, but it's always best to go out on your senior year. I missed out on my sophomore year because I broke my leg, but it would be best if we got to play now. And if we don't, you know, there are always things we can do in the summer to help ourselves get looked at by other colleges."
He and his fellow teammates have heard of players on other teams getting sick and are taking every precaution to keep healthy, "I don't think there's that much you can do to prevent it, other than just wearing masks and social distancing. But I think, one concern is that since we're playing now, there's more of a chance one player on a team will get coronavirus, and then we can't even play the season," said Gravagno. 
 Proper Preparation
One major change this year, even in the wake of COVID, is the move for Head Coach Mike Campbell from Arapahoe to Englewood full time in the classroom and on the field. He brings more than two decades of experience. Campbell is teaching several online classes, in-person Economics and is the new weight training coach,  "Coach is really pushing us in the weight room which is good. I think it's good that he's teaching the weight room class now so he gears it towards football more and there's a lot of football kids in the weight room. He is just getting us prepared for the season as much as we can," said Gravagno. 
Shawn Fox believes that it is important to stay motivated, "I think one way is just coming into the weight room every day consistently and having a mindset of working and not letting days go by so when the season actually starts, we'll be ready."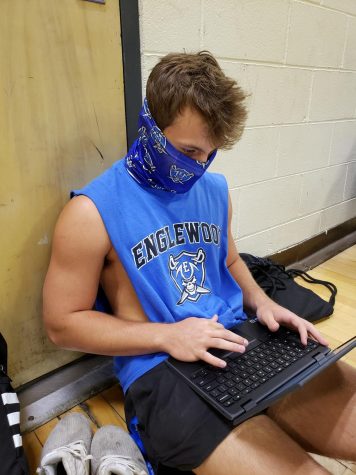 "Since we have our coaches here, there is a lot more productive time in the gym. We have our teammates in there and most of us, we like to compete.  We just work in there and grind, and do our best to prepare for this upcoming season," said Cave. 
Coaches Corner
Coach Campbell is nervous but ready to play ball, "Well, it's obviously not my first choice as to how things would go. But I'm glad we're getting to play this fall. At this point, I feel like beggars can't be choosers. We're excited to get to play."
He is enjoying his new role, "I love it so far. The staff has been really, really welcoming, and made me feel right at home. I just wish that we were in different times, where I had five classes and got to interact with more kids. But overall, I'm really excited to be here."
Teaching the weight training class builds relationships with students off the field and helps athletes stay on track, "Well, I think it's doing a good job. We do have eight to 10 football players in there. So that's really good. I wish attendance was a little bit better for some, but for the most part, it's going really well. I think Nate, and Shawn Fox and Zach and Destin Beck and D'Angelo, they're here, I see them making progress. I think it's going to help us."
Does Campbell believe there is enough time to be ready for the season?
"Yes, and no, I mean, yes, in that, I think the way we prepare around here and the way we do offense, defense, and special teams and having a coaching staff that's pretty well intact for the last three years makes us as prepared as anybody to play."
Englewood has a lot of returning talent, "I also think the amount of returning starters we have coming back is a huge help and advantage over maybe some of the other programs around town. However, the amount of practice time we get before we play a real game and no scrimmage against anybody else is probably concerning. But I also understand trying to limit as much contact with other people outside of our cohorts. Just makes sense. So I feel we're as prepared as the next team."
The Stress of Putting it all Together
Athletic Director Nate Smith said it's a ton of work going into the football season late, "Well this has been a year like no under no other and I think there's a certain amount of stress in trying to put together a football season that we usually have all summer to prepare for in a short amount of time so I would say, excited, and also stressed."
There is still a bit of confusion as to how many fans will be able to fill the stands, "So right now we're at 250 people. I'm trying to clarify with the health department– is that total people in the stadium including participants, or is that just spectators. But we know we'll have a limit there and we have to try and figure out how to use those spaces."
It is unclear if players, coaches, line judges, and media all contribute to the total number, "I'm trying to clarify that now, because the venue, it says 250 and Arapahoe County has the last say. It could change each week depending on how many numbers of players are on each team here."
The PirateTV broadcast group will be live-steaming the home games, "We're going to be live streaming the games, we're going to have ways for the community to be involved."
The stadium has a new, and improved look for this year, but with the social distancing restrictions, Smith said, few will see it right away in person, "Yeah, absolutely. Unfortunately, we're going to open up a beautifully renovated stadium and we're not going to be able to have everyone in the stadium that wants to be here. Due to the health restrictions, that's why we want to live stream each home game. It is a great opportunity for some of our other students to showcase what they can do with their live streaming and reporting of the game."
Smith says the most important thing is that athletes get to play, "I think the number one thing we want to do is make sure we can get the kids on the field and let the kids have fun and then we can hopefully let the parents get into the game and then after that we'll have to wait and see. But we want everybody to be able to watch the game, whether here at Pirate Stadium or at home."
A New Stadium
Plans for the new stadium were released in March of 2019. The first major upgrade to the stadium was in September of 2019 with the addition of the state-of-the-art scoreboard. The project slowed March through June and ramped up again over the summer, "It is pretty exciting to be at the point where we are handed the keys to a brand new renovated stadium and we're super excited for all of our athletes and all of our activity groups that will get to use the stadium."
Smith said in 2019, the stadium field is top of the line, but the track and the outbuildings could use some work, "We are tearing down all the buildings, and putting in new restrooms, a new concession stand, two new team rooms, an 8th lane to the track, and we will replace the light poles." That work finished the week of September 21. 
Now, Smith is excited about the improvements, "I know when I go to meetings around the Denver Metro Area, people are jealous of what the taxpayers here (in Englewood) have done for us. I think we're going to have just a great facility for years to come and I think we're also going to be able to increase the number of events we get to host just because we'll have such a nice facility." 
Sails Up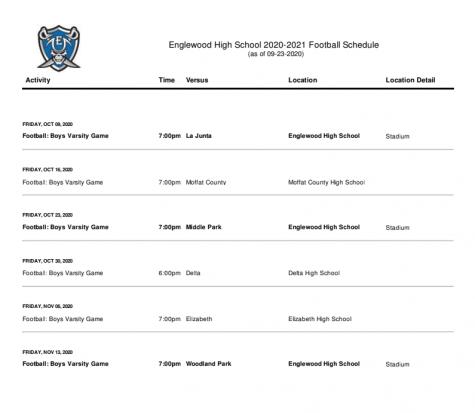 Senior D'Angelo Williams plays on the offensive line, "It's going to be a different season this year, following the COVID rules. Stay 6-feet apart when we aren't on the field, and get used to the different things we are not used to, but otherwise, I think it's going to be a good season." 
 Mr. West said the season looks competitive so far, "Due to the split schedule with some of our league members still choosing to play in the spring, we will be playing some new opponents. We will be hosting LaJunta, Middle Park, and Woodland Park while we will be traveling to Moffat County, Delta, and Elizabeth."
Click through the slideshow to see the progression of the stadium over the course of the summer.
About the Contributors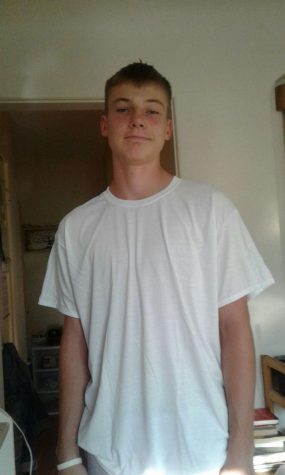 Nate Gravagno, Staff Writer
I am a Senior and a three-sport athlete at Englewood High School. I like going into detail about events that affect me and other students at Englewood.