(Spanish version)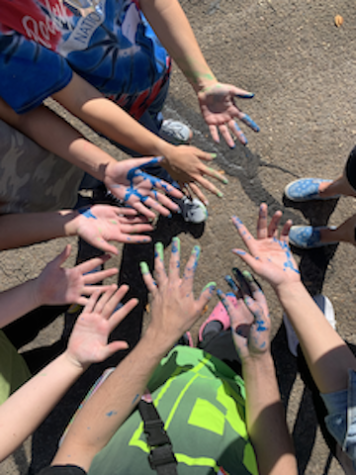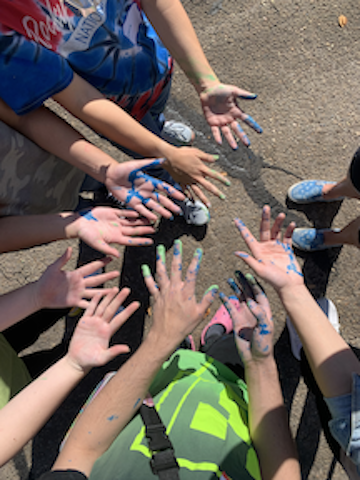 LatinX club st EHS siempre se ha esforzado por promover la comprensión y celebración de la cultura hispana a través de eventos en el campus.
Este año, los estudiantes del club y los artistas de EHS crearon un mural comunitario para embellecer un espacio y agregaron una exhibición de Dia De Lost Muertos en la escuela. Esperan que el mural deje una impresión duradera en los estudiantes y la comunidad. A la estudiante Laura Ortiz le encanta ser parte del grupo, "Lo que más me emociona es que conozco gente nueva, que hablan mi mismo idioma, también me gusta que hacemos muchos actos de caridad que ayudan a la comunidad y entre los latinos nos unimos para ser uno." 
Ortiz dice que el club tiene un énfasis en las actividades para la comunidad latina, "A principios de año, los miembros aportan ideas sobre cómo ayudar y aportar cosas a la comunidad, como donar ropa para el frío y cobijas para las personas que no tienen hogar, recaudar fondos para alimentos que las familias lo necesiten o personas de la comunidad.", ella dice que siempre se siente bienvenida durante el horario del club porque la gente es amigable y siempre quiere lo mejor para la comunidad. Siente una conexión dentro de su cultura.
 La registradora Celeste Delgado ha sido parte de el personal del colegio y asi la patrocinadora de el club, "Hacemos eventos para recaudar fondos, trabajamos en la comunidad, hacemos muchas cosas inclusivas con la herencia hispana y en torno a las becas para la universidad.", eso incluyó el trabajo en el mural y la exhibición del Día de los Muertos con los estudiantes de Herencia Hispana.
La estudiante de primer año Lizbeth Vélez siente mucho respeto y conexión con el grupo, "Creo que me gusta mucho que la cultura latina tenga un lugar importante en los Estados Unidos." 
Vélez dice que una de las partes más reconfortantes del club LatinX es sentirse como en casa ya que se siente en su cultura e idioma, "Me gusta mucho cuando compartimos el almuerzo, me siento cómoda y no me siento juzgada por no hablar bien el idioma. Yo me siento bienvenida y feliz de estar allí, ya que ayudamos mucho y recaudamos fondos, y cuando sabes que estás haciendo las cosas bien te sientes bien contigo mismo y con los demás."
The mural esta en Cherokee and Floyd.  
(Translation by Marialejandra Rangel)