EHS Color Guard wins 3rd in State
A beautifully synchronized collection of flying colors may look easy, but members of the EHS color guard work hard to make it look simple.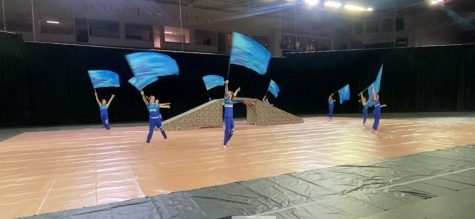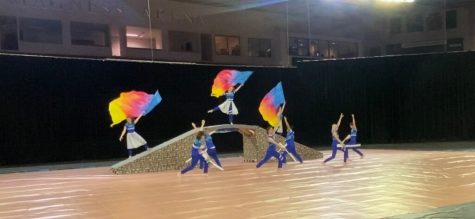 Senior Vinny Pino loves taking part in Color Guard and has taken a leadership role in the group. Pino practices with his team in the middle school gym for three to four hours, three times a week Monday, Wednesday, and Friday. Pino says manipulating the flag takes a lot of patience and concentration, "At practices, we often dance while using equipment like Sabers. Director Russ Carroll often comes up with choreography to match the song running in the background."
Color Guard is a competitive, performance-based activity. It incorporates choreographed drills, dance, and manipulation of equipment such as flags, prop rifles, and sabers. Color Guard teams enhance and interpret the music of a marching band or drum and bugle corps show. Winter guard is similar to color guard, though it is often indoors and will sometimes use different music than Color Guard did during the season.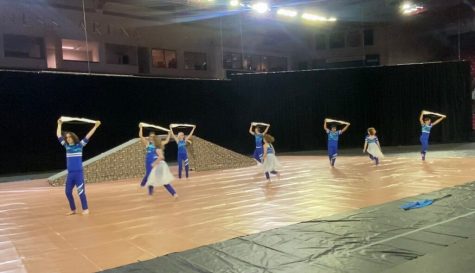 In 1962, Vincent R. DiNino, Director of the Longhorn Band, "The Showband of the Southwest", at the University of Texas began the use of large 4'x6′ flags in the school colors (orange and white) as a group marching with the band at halftime shows at football games.
EHS had its "last" performance in April 2023 at a State Tournament, "We took things into our own hands and made it into third place in state," says Pino.
He says Color Guard isn't as simple as tossing flags into the air and catching them, "The hardest part of being in Color Guard is having to stay in sync with everyone else. When we mess up, we have to keep trying until we finally get it right." His teammates say Pino is a very honest and hardworking person.
Color Guard performances are all throughout Spring and are held on Saturdays along with rehearsals, which can also be held every other Saturday.
Pino is an accomplished musician, playing the trumpet and many other instruments. You can hear him in the Jazz band during performances on May 4 and during graduation.