Students earn a paid internship with a world leader in aeronautics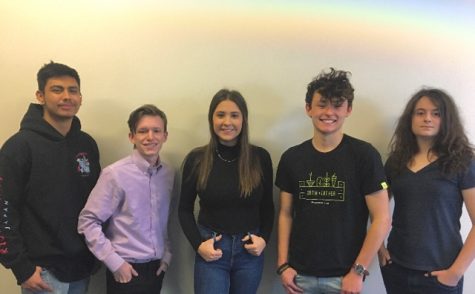 Five Englewood High School students get a unique and extraordinary opportunity to work for a world leader in the fields of aeronautics, defense, rotary and mission systems, and space. 
Senior Dylan Gruska and four other EHS seniors earned the coveted spots with Lockheed Martin, "One thing I'm most excited about is learning while I work. It will be a great experience and I might end up working on things that will be used in space."
Gruska says this is an important step toward a successful future, "This is a very unique opportunity because they offer learning tools to help you prepare to work on products, which will, in the end, make it easier for me to go through college as I will have gained specific knowledge prior to going."
Senior Deveyn Hainey earned another spot and said they were looking for something specific, "They want people with new experiences and open-mindedness to come to Lockheed Martin and start to make new projects for them, and then rebuild or reshape how interns go into the field," said Hainey.  
"
"It felt surreal. I was surprised I got it. And I think just how great of an opportunity, it kind of hit me." "
— Dustin Trevino
There were a total of 15 applicants, but only eight students chosen for an interview and five were selected for the team. The other students selected include seniors Dustin Trevino, Ethan Cuenca, and Isabella Pellegrino. "The opportunity for the future. To say my first job was Lockheed Martin. I think that's an interesting concept. To have my first work experience to be in aerospace is incredibly cool," said Pellegrino. 
Pellegrino says there is a lot of work that needs to be done before the real work begins, "I can tell you, I certainly dropped some stuff to prepare for this. I've been studying up on Python recently. Learning to use Microsoft Visual Studio which is a coding studio. I'm learning to code with deadlines. I'm learning to code in a week. Some of its working out, some of it is not. Giving myself restrictions on code I work on."
This opportunity not only gives Pellegrino skills now, but it also sets a trajectory for the future, "I think of it as setting myself up for the future. If I can have this experience now, that opens up a lot of freedom for me. I'm an educated professional. If I want to move overseas, I'm an educated professional. It is increasing my value as someone to incorporate into your business."
Trevino says it is a once in a lifetime shot, "I think it's a pretty awesome opportunity, especially for kids at Englewood who don't get the chance to be involved in things like that so it's pretty awesome."
The opportunity comes with responsibilities and rewards not lost of Trevino, "It felt surreal. I was surprised I got it. And I think just how great of an opportunity, it kind of hit me." 
Ethan Cuenca is aiming toward a career in engineering and this is the perfect jumping-off spot, "I am excited about starting my first internship and getting hands-on experience as an engineer."
 He knows very few students get the chance to learn with the experts at such a young age, "This gives the chance to enhance skills at a young age as well as continue learning in the work environment. As of right now, I know I want to be an engineer but I am still uncertain as to what type of engineer with this internship will be able to try the computer programing rout as well as narrow down my options for my future career," said Cuenca. 
Lockheed Martin representatives came up with the idea to include high school students in their internship program to mold students earlier, "They're trying to influence high schoolers so that when they're in college they can grow with the program and then hopefully after college, they'll get a job," said Hainey. 
Dr. Erika James, the Business and Computer Science teacher helped make this happen for the students, "Lockheed Martin reached out to us since we're a Project Lead the Way school. They connected with Mr. (Ryan) West, and then we started to work together as a STEAM pathways team to offer the opportunity to our students."
Students had to go through an interview process and they met with a panel of individuals from Lockheed Martin, "They also met with some of the former interns that are now current employees of Lockheed Martin. So those were the individuals that determined who was going to stand out. I think as far as what made those individuals stand out was their work ethic, their interest in computer science, engineering and sciences in general. Their ability to work hands-on with code and the ability to work within a team," said James.
They're gaining employment. It is a paid internship. "They're also going to be working on software and hardware, at Lockheed Martin, which is located on the Waterton campus. We haven't been given the full details of what they're going to be working on. They have to get approved with certain levels of security and background checks to work on particular projects, but they're gaining hands-on real-world experience in the computer science industry," said James. 
The first step for these students is taking place this spring, "They're going to be working at least 10 hours a week offsite and they'll be visiting the Waterton campus once a month. This summer, they'll be full-time employees working 40 hours a week on the Waterton campus. After they've completed their internship, it will be determined by Lockheed Martin if they will become full-time staff members," said James. 
Students know this is a big opportunity, "The most exciting part is being able to be exposed to something so big, and can help my community. And I'll be able to grow with it through college, I'll know exactly what to do when I'm out of college," said Hainey. 
This internship, while monumental, doesn't necessarily cement her path in life. Lockheed Martin has hundreds of job choices open to students, "I want to continue growing, I don't want to just settle for one job, so that's why I'm interested in this because I can do computer science or aero engineering and it doesn't matter because there are so many pathways at Lockheed Martin," said Hainey. 
It is a huge step in the direction they are pointed toward, "It will help me start a career by being a great thing to have on my resume and it could lead to a full-time job right out of college if I perform well," said Gruska. 
Trevino knows he will be part of a team at the forefront of building the future, "I want to get better at it and I think coding is the language of the future. So, yeah, love to stick with it."