Girls Track Team First in League
Coach Sean Stettler won Frontier League Coach of the Year.
The track fans at Jeffco stadium fought the rain, but were loud and supportive during the Frontier League Championship Tuesday, May 2. 10th grader Serenity Gambrell ran the 100, the 400, the 200, and the 4×4 relay, "In the spur of the moment, it is a lot of pressure, but I always feel very accomplished. Two of the races, I don't really train for, so being put in those events was nerve-wracking, but being top three in all of my races, it is something I can look back on and be proud of."
The EHS girls' track team won the Frontier League Championship and the boys' team was a close 2nd. Coach Sean Stettler won Frontier League Coach of the Year.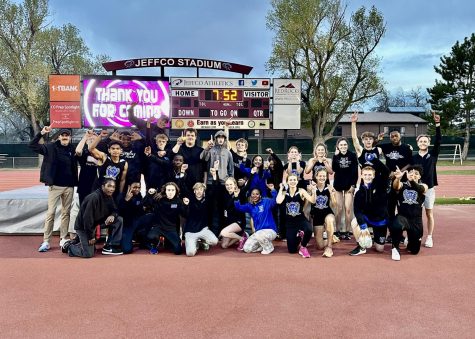 Freshman Dylan Noll threw Discus and ran the 4×1 relay and the Open 400. He went to the finals for Discus, "It was shocking because I didn't expect to make the finals at all. I placed 7th. Technically I tied for 6th but they ranked me 7th, as my second throw was not as good as my competitors."
Senior Robyn Gusek ran the Sprint Medley, 4×200, and Triple Jump, "We placed 3rd in the Sprint Medley and the 4×200 and I qualified for finals in the triple jump. It was really fun and it was super exciting to win because we have been trying for the League title since my freshman year."
Beau Gilland runs 1600, 3200 and the 800 this season.
Senior Owen Custer is in his second year on track, "I enjoy it. It's an opportunity to go out and build fitness." During league, he tied his PR for the mile at 5:24, "The races are rewarding. I was upset about not beating my mile time. I ran well."
Up next for track and field, the Windjammer Classic, which is a last-chance qualifier for state. It is May 12 and 13 at Englewood.