A roller coaster of a season – Basketball
Players experienced a huge drop to start but as it went on, it became quite a ride for the team with some very close games. 
Varsity boys basketball got off to a rough start for the 2022-2023 season, losing the first few games. Then they found their stride, winning game after game and really showing what they are made of.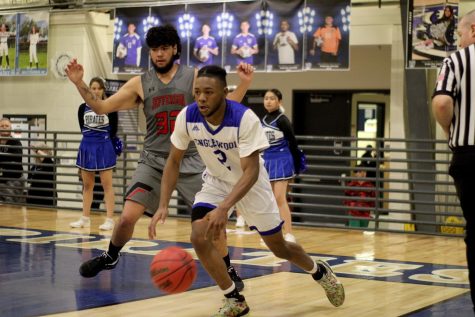 Senior Isaiah Williams has been playing basketball for four years. Williams is a power forward and loves the battle of the game.  When asked what it takes to be a great player Williams said, "Great leadership and work ethic." Loving the game and becoming part of the basketball family are just some of the things that Williams enjoys about playing basketball. If given the chance to play sports in college Williams said, "I would love the opportunity."
12th grader Kingston Jones has been playing basketball for 11 years. He joined because he comes from a family of sports. His motivation comes from the love he has for the game, his mom and grandparents inspired him to play better. He trains by going to the gym and working out in order to perform his best on the court.
Senior Samuel Deyo has been playing basketball for four years and also plays baseball. Deyo said he loved joining basketball because he loved this sport. What motivated him to play this sport is to have fun and win the game for the winter season. Deyo says his family trained him for this sport. Teammates describe Deyo on the basketball team as hardworking. 
Dio Gunn is a senior who has been playing basketball as a guard for the Englewood High School Basketball team for three years. He wears the number five jersey. He is mostly inspired by his family and is stressed by close games. He is, however, motivated by the desire to "get better and win." Gunn trains tremendously for the sport by running and attending all of his practice sessions, and he says it takes "hardwork and dedication" to be a great basketball player. Gunn is, however, still exploring his options for basketball and other sports after college.
Junior Dominic Dever has been playing basketball since kindergarten. He wears the number one jersey and he played point guard and shooting guard. He also plays football and baseball. Dever joined the team because of his love for basketball. He was motivated to play basketball by his parents, "They always made sure I liked basketball since I was little." His dad, teachers, and coaches inspire him to improve. To train, Dever goes to the rec center and practices on his outdoor basketball court. "The pressure of performing well every night," is what causes him the most stress in the sport. Dever believes that being a great player takes, "Hard work, grit, and the need to win."
11th grader Dane Quintana has been playing basketball for three years and is a varsity shooting guard. Quintana joined the team, "for the love of the sport." He said there are several things that cause him stress, but "miscommunication with the team" is the biggest issue for him. He says it takes discipline to be a great player, "putting in the work when you don't want to." 
9th grader Nathan Ortiz played basketball in middle school and is in it for the love of the game. Ortiz says "he want to be great" but that adds a lot of stress. He feels being great is all about his mindset. Ortiz is inspired to improve his game by his senior teammate Kingston Jones. He continues to improve his game with practice.
9th grader Hector Ramirez has played sports for the last two years including track and soccer. Ramirez joined the team because he loves basketball, his teammates and family motivate him to be the best he can be. Ramirez says ¨When the game is pressuring it stresses me out but you have to understand that it is ok to make mistakes and just keep training and never give up.¨
 Jonah Singer a 9th grader.  He has been playing basketball for eight years. Singer says he was inspired to play basketball by his siblings and coaches. Singer takes this sport very seriously "I practice and workout on my own time," Singer said. He really tries to improve, "to be a great player it takes dedication and teamwork."
The team was 9-14 on the season and 3-2 in League play.