Marching band wins another award
Marching band takes third at state
"I love taking part in the marching band because of the hard work that eventually leads to a payoff," said Senior Ashlynn Hainey, who plays the clarinet and took on the coveted leadership position of Drum Major this year,  "It also takes organization and discipline. I've learned a lot about being a part of the marching band, and I believe both of these characteristics will greatly help me in the future." 
Hainey knows the time she spent in the marching band has given her some skills she can take into life,  "Personally, I've learned so much about myself because of the hard work, dedication, and grit needed to be successful in the marching band. It is also so much fun being apart of something that has such high expectations and support."  
The dedicated musicians of the marching band spend summer mornings, early school mornings and late nights perfecting their skills. The hard work paid off this year with third in the state, "The students involved are pretty intense and work hard through the demanding practice schedule even when they are fatigued. In terms of our attitude about finals, however, there was a major shift. This year, only 3 bands moved on to finals due to the elimination of one spot," said Phil Emery, the Band Director.
Emery knew that one really great band would be going home disappointed, "Thankfully we stepped up and after going into prelims five points behind Montezuma Cortez, we moved ahead of them by three into finals with a 73.4. They are a fantastic band and a great group of kids but we were happy it was us that got to move on." 
He says the band wins awards every year, "The most prestigious in recent years is our performance at the Colorado Music Education Association's Clinic/Conference in January of 2019. It was the first time in 50 years Englewood has been at the conference attended by Colorado Educators."
For some students, the band has been their main focus in high school. Senior Citlali Lopez has been in the marching band all four of her years at Englewood, "I have played the clarinet for all four years. I was able to become the clarinet section leader during my sophomore year in the band and slowly but surely gained the confidence to lead." 
Lopez found a real connection to her fellow bandmates, "Marching Band has given me something to call my own and brings me closer to new people year after year. What I love about the marching band is the juxtaposition of personalities coming together to do something we all love. These relationships also last forever, the band is a safe haven for some people and it's really nice to see that community in high school."
She and other musicians have a real passion for the band and are thankful for everything they've learned, "The high school band showed me what it was like to be a part of a group of people that weren't my family. We all share the same goal and passion for an activity. This activity has made me more competitive, transformed me into a leader, and has shown me camaraderie. The marching band has given me a platform to be a leader within my peers and have a sense of passion and drive for what I want to accomplish."
Lopez said she will miss the camaraderie of the marching band, "The sense of a goal and the pay off in the end. I will also miss the thrill of competing and the many laughs I shared with friends on a daily basis.  Even though I will not continue music in college it has helped me discover my voice and is my most precious memory of high school."  
For the director, he has been in a unique position, "to see many of the kids entering their 7th year in the band with me because they started as 6th graders in ELA and stayed with it. I'm incredibly proud of the growth every kid in the program makes and the level of achievement has become almost an expectation. We never let up and the season is year-round. Marching band is just one of the pieces of a comprehensive program we are very proud of," said Emery. 
Hainey said this is a strong group that will continue to grow even after she is gone,  "I will miss the people. I've met so many wonderful people and I've been able to watch them grow significantly. I'm excited to see what they'll accomplish next year."
Leave a Comment
About the Contributor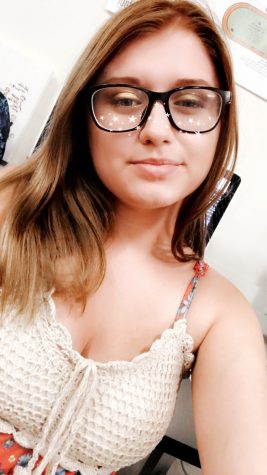 Jaydin Webb, Editor in Chief
I am part of the senior class of 2020. I hope to continue my career in journalism and leave a legacy for the next Editor. I have put my all into making...